It's 'Lonely' Being an Obama Supporter on Wall Street
Financier Whitney Tilson endorses the president in an email blast, complete with charts
By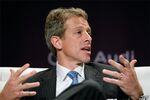 It's a good bet that of all the off-the-cuff remarks politicians have let slip over the past four years, none has been so costly in dollar terms as President Barack Obama's infamous "fat cat bankers on Wall Street" comment. Since then, one Wall Street bigwig after another has denounced Obama, from AQR Capital's Cliff Asness, to Third Point's Daniel Loeb, to Blackstone founder Stephen Schwarzman's comparison of the administration's tax plans to a Nazi invasion. Which is why the investor Whitney Tilson's endorsement of the president yesterday stood out.
When the head of the hedge fund T2 Partners decided to send out his endorsement to his 8,000-strong e-mail list of contacts, he opened with a disclaimer that read: "DO NOT READ THIS IF YOU ARE CERTAIN THAT YOU WILL BE VOTING FOR ROMNEY!" Tilson's message went on to say that, "the political environment has become very toxic and I'm not interested in receiving angry emails, denunciations, threats, etc." His intention wasn't to change the minds of set Republican voters, Tilson explained. Rather, he was hoping to reach the "handful" of undecided voters who might still have an impact on the outcome of the election. When he was asked what it's like to be an open Obama supporter in the financial industry, Tilson replied: "Lonely."
"The shift from four years ago has been dramatic, and the Obama critics-slash-haters are much more vocal than the Obama supporters." says Tilson. "That's another reason why I genuinely felt business risk by publishing what I did." His message included a 14-page presentation outlining his arguments, beginning with his sense that Obama is a "rational, intelligent, moderate" person who was dealt a terrible set of cards when he came into office; his concern about how moderate Mitt Romney actually is; and worries about the extremism of the Republican Party in general. Tilson also addresses issues such as jobs and the economy, the deficit and taxes, and—like any self-respecting financier—backs his points up with plenty of charts.
On the subject of "class warfare," which many of his financial-industry brethren have cited as the reason for their anti-Obama sentiment, Tilson writes: "The charge that Obama has been fomenting class warfare has been repeated so often that it's taken as dogma by many, but I'm not buying it." Tilson says that so far "a few people have flamed me," but that mostly the reaction to his e-mail blast has been positive, if only because the Obama-haters were diverted by the disclaimer.
Wall Street's anti-Obama sentiment is "perfectly reasonable" from the industry's perspective, Tilson says. "There is some rationality to it in terms of, 'whose bread I eat, whose song I sing.' … Romney wants to eliminate or gut the main elements of Dodd-Frank, for example; the Consumer Protection Bureau that Elizabeth Warren set up is bad news for bank profits in that it protects consumers. I would say, in general, Romney and the Republicans would be much more favorable toward high profits of financial firms." But, he adds, "My view is: Obama has gone much too easy on the financial sector." If going public with his views costs him some potential investors, says Tilson, "I'd like to think that for every person that it hurts, there's someone else who—even if they didn't agree with me—respects what I did."
Before it's here, it's on the Bloomberg Terminal.
LEARN MORE