How to Rebuild a Boardwalk
by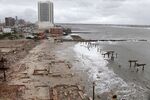 Few places represent summer on the mid-Atlantic coast like its boardwalks. In some boroughs of coastal New Jersey, such as Belmar, Seaside Heights, and Atlantic City, Hurricane Sandy tore the planks from their pilings. They're unlikely to be fully repaired by next summer. "It'll be a several-year process," says Jim Marino, president of Taylor Engineering, a 60-employee marine engineering company based in Jacksonville, Fla.
Grim as the destruction is right now, Marino says it's also an opportunity to rebuild a more resilient coastline that can withstand more powerful storm surges and rising sea levels. That means more protection for critical infrastructure for water supply, water treatment, and power plants. The beaches and boardwalks, too, are infrastructure that shields the communities upland, and he says they can be made more robust. "Do we want this boardwalk to be higher and stronger? Do we want to use concrete piles instead of wood piles? Do we want to use recycled materials?" he says.
The actual construction isn't complicated once design and engineering choices have been made. While there was controversy about replacing part of Coney Island's boardwalk with concrete and plastic even before the storm, Marino says wood, concrete, and synthetic materials can all make durable boardwalks. Communities will have to choose whether to use more expensive, higher-grade materials that will better withstand future storms. Marino, who grew up in North Massapequa, N.Y., and spent his summers on Long Island's beaches, says he thinks communities will want to rebuild boardwalks that look and feel like the ones they lost. "It's a piece of the heart of those communities," he says.
Clearing the debris will take weeks. Local governments that depend on tourism will cut the red tape, Marino expects. Still, with all the other damage from Sandy, cities will have to decide where to deploy construction equipment, labor, and dollars.
In the meantime, communities that lost their beaches and boardwalks are more vulnerable to further damage from storms this winter. In addition to everything else, Sandy knocked out much of the East Coast's natural protection from more ugly weather. Says Marino: "Going into the winter is the worst time not to have your beach in front of you."
Before it's here, it's on the Bloomberg Terminal.
LEARN MORE