Gyms Become Oases for New Yorkers Without Power
by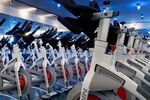 1 p.m.,  Oct. 31, 2012 — With most of lower Manhattan still out of power, New Yorkers are seeking refuge wherever they can find power and running water, including their gyms. Upscale fitness centers, with such amenities as cafes and steam rooms, make for especially comfortable escapes from the darkness.
Around 6 p.m. on Tuesday night, Manhattan resident Kimberly McGinnis, whose apartment has no power, went to a spin class at the 44th Street Equinox gym with a friend from work whose home lacks running water. The line for the ladies' locker room was about 15 deep when she arrived.
"The gym was overrun with people," she says, mostly there just to shower or charge laptops and phones. Some guests even sat on the weightlifting floor, next to fitness equipment, while they charged. Her spin class, however, was half-empty.
Some Equinox locations never even closed for the storm, and the 11 of 19 that remain open throughout the city have been "extremely busy," says spokeswoman Judy Taylor. "I've never seen anything like this. Usage has been crazy," Taylor says. Equinox Chief Operating Officer Scott Rosen says gym traffic is comparable to the first few weeks in January, when New Year's resolutions translate into a sizable uptick in gym attendance. Sales at the gym's shops are up, too.
By Wednesday morning, Equinox sent out an e-mail barring guests, for the time being. "Because we're  serving members from closed clubs, we did not want to add guests into the mix," Rosen says. And many members, he says, are in the gym for much longer than usual: "They are staying at least until their phones are charged."
Before it's here, it's on the Bloomberg Terminal.
LEARN MORE