For Mitt Romney, Hurricane Sandy Is History
by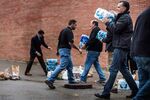 12 p.m., Oct. 31, 2012 — Two days ago, the presidential race ground to a halt because of the hurricane—or seemed to. President Obama canceled his campaign events and returned to the White House. Mitt Romney hastily refashioned his campaign events as "storm relief efforts," although as Buzzfeed's McKay Coppins reveals, this mainly entailed dropping $5,000 on diapers and granola bars at Wal-Mart to enable a different kind of photo op than the one that was originally planned. Today, Romney has dropped all pretense and will return to his regularly scheduled program with a series of "victory rallies" in Florida.
Is it too soon after a deadly storm to return to crass presidential politics? Romney may not think so, but President Obama evidently believes it is. He's still formally in disaster mode. Today, he'll tour the hurricane damage in New Jersey with Gov. Chris Christie, a Republican. That could make for an interesting—and potentially awkward—split screen on the evening news: Obama somberly meeting with victims and first responders while Romney hammers away at him from Florida.
Before it's here, it's on the Bloomberg Terminal.
LEARN MORE