American Apparel CEO Dov Charney on His Controversial Ad
By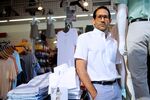 A few days ago, when Sandy was just a silly-sounding Frankenstorm, the marketing appeal was undeniable. Graphic Image staged a "Franken Storm Franken Sale" that invited customers to take 15 percent off the leather diaries, notebooks, and everything else on its website, and sports retailer Owner Operator had its own FRANKENSTORM discount. Urban Outfitters blasted out its offer in an e-mail that declared: "This Storm Blows But Free Shipping on All Orders Doesn't." Even Singer22, a trendy Long Island clothing retailer in the path of the storm, hawked its hurricane sale with the slogan: "Every cloud has a silver lining."
As the hurricane-turned-cyclone left a path of destruction across the East Coast, the cutesy slogans suddenly seemed a little tasteless. But no brand got a blast of negative blowback quite like American Apparel. The clothing retailer, long criticized for using porn imagery to hawk underwear and T-shirts, offered a 20 percent discount to customers in the nine states most affected by Sandy. "In case you're bored during the storm," the ad stated, "just Enter SANDYSALE at Checkout."
Within hours, critics were raging in blogs, tweets, articles, and on TV. Senior Editor Diane Brady spoke with Chief Executive Officer Dov Charney on Oct. 31. Here's what he had to say:
Bloomberg Businessweek: Why do you think there was so much blowback?
Dov Charney: It's the blogosphere. Each blogger or Twitterer eggs on the other, and it becomes a big deal. That doesn't represent the majority of the people. I don't think the average person was offended. There were 25 bloggers who blew up. That's their right. The media is also interested in getting a rise out of readers. You have to look at your motivation in covering this, too. But it's not a big deal. We don't think it was offensive. We're sorry if others thought it was.
So do you think it was a mistake to run that ad?
Was it a mistake? I don't know. If so, we make mistakes at times. We chalk it up to experience. The reality was there were a lot of people stuck at home in front of the Internet. I don't think our marketing guys made a mistake. Part of what you want to do in these events is keep the wheels of commerce going.
How did it affect your sales?
People shopped on it. We generated tens of thousands of dollars from the sale, but we'll probably lose a million dollars from this (storm) event at a minimum. We're here to sell clothing. I'm sleeping well at night knowing this was not a serious matter.
What's your strategy in dealing with the storm now?
We're trying to research how to get our clothing into the New York area. We're looking at where we can give donations. What's really important right now is to put people back to work as soon as possible. People who work by the hour don't get paid when they're not working. Our job is to keep them busy, to keep them working.
Any more storm-related ads?
It's all so fast. We've already generated two other ads. Now it's about which stores are open. Sometimes you're promoting the product. Sometimes it's a value proposition. Halloween is an important day for us.
Do you have much hand in the advertising?
The ones where I do, I'm often mistaken [about what ads will work]. We've never claimed to be a perfect advertiser. Our heart is always in the right place. We're just trying to bring a little value to everyone. It's all about fun. I hope people get out and trick-or-treat, whether they're wearing American Apparel or not. The weather is a force of nature. I'm hopeful that there will be smiles. That's the main thing.
Weather's a fickle thing. Is it something you'll avoid from here on?
Look. We've all been in crazy storms. I get it. We've had ice storms in Quebec. We had Katrina. We gave away hundreds of thousands of dollars during Katrina. Life will go on. These things come and go quickly. We weren't out to offend anyone. Our heart is in the right place. It wasn't that serious. We have to keep the machine alive. We're not a company that has huge reserves. We have to keep things rolling. This is how we do it.