A Former Web Executive Reboots With Artisanal Foods
by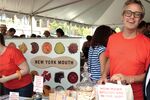 At the height of the first great dot-com boom, Craig Kanarick, then in his early 30s, was running Razorfish, a Web design firm he'd co-founded with an old friend, which at its peak had 2,300 employees in nine countries. Its client roster included IBM, Ford Motor, and AOL, and its stock market valuation was $4 billion. By the time Kanarick left in 2001, after the bubble burst, the company was valued at $9 million.
In the following years, Kanarick built up design teams for such companies as Blockbuster and Samsung Electronics, headed two digital divisions within the Rockwell Group architecture firm, and consulted with a number of Web startups. But it was the nine months he spent interning in Mario Batali's kitchen, in 2001, that provided the inspiration for his recently launched business called New York Mouth.
A year and a half ago, trekking out to Brooklyn, as he did most weekends to buy small-batch pickles, beef jerky, and other craft foods from farmers' markets and young boutiques, he saw a way to improve the nonexistent supply chain for hipster food products, whose old-timey quality too often came with a 19th century sales model.
"What was missing was a place where you could actually go and buy those things," says Kanarick, now 45. "A lot of these people are really good at making food, but not great at building business, websites, customer service, and distribution."
New York Mouth, an e-commerce site Kanarick launched in February, streamlines the process, curating a selection of independently made, small-batch foods, such as Brooklyn Roasting Co. coffee and Hoskins Berry Farm blackberry vinegar. It carries around 400 products and ships all over North America. The company is operating with eight employees and largely off investments from friends and family. Kanarick claims that monthly sales are growing by double digits and predicts that New York Mouth will be profitable by the end of the year. (Based in New York City, the company is offering a promotion on NY Centric Taste packs, with partial proceeds going to Hurricane Sandy relief at City Harvest and City Meals on Wheels.)
A serial entrepreneur ("It's in your blood, your soul"), Kanarick's happier now than he's been in a decade. "I found the perfect way to combine my love of digital, startups, and food," he says.  "It's a blast, and I no longer have to go to Brooklyn to get this stuff."
Before it's here, it's on the Bloomberg Terminal.
LEARN MORE