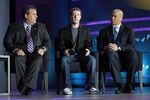 After teaming up to fix the failing public school system in Newark, N.J., Facebook founder Mark Zuckerberg, New Jersey Governor Chris Christie, and Cory Booker, the city's ebullient mayor, have faced opposition from the local teachers union officials. Just when they'd finally made headway, they were thwarted by Hurricane Sandy.
On Oct. 18, the Christie administration announced a new contract with the Newark Teachers Union that includes a merit pay system in the state-controlled district. It would award highly effective teachers an extra $5,000. Those who go to work in the lowest-performing schools would also get an additional $5,000 annually, and there is a $2,500 sweetener for union members who teach math and science. The bonuses are expected to come from the $100 million challenge grant Zuckerberg announced in 2010. The New Jersey press has hailed the contract as a game changer. Tom Moran, a columnist for the New Jersey Star-Ledger, predicted that it would "unleash a tidal wave of reform in the city."
New Jersey Spotlight's John Mooney wrote that the deal should reassure those who may have thought the Foundation for Newark's Future, the philanthropic organization set up to dispense Zuckerbetrg's $100 million gift, wasn't moving quickly enough. "Slow and methodical may be the best way to characterize its two-year ramp-up. And while it has committed $16 million to worthy projects—such as grants to new schools and teachers—none were exactly headline grabbing. All that just changed."
There's only one problem. The members of Newark Teachers Union must still ratify the contract. Not all of them are inclined to do so, such as those involved in the Newark Education Workers Caucus, a dissident group within the union.
The union was schedule to vote on the contact on Oct. 29. But that was the same day Sandy hit New Jersey. Now the vote has been postponed indefinitely.
Before it's here, it's on the Bloomberg Terminal.
LEARN MORE