Who Will Pay For That Dangling Crane?
by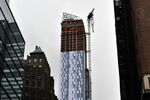 The image of a massive construction crane dangling way up in the air was one of the more haunting images during Hurricane Sandy. The large steel boom whipping around in the wind prompted precautionary evacuations on the block, including guests at the Parker Meridian, and winds were too severe for many hours to send crews up to stabilize the crane.
This wasn't atop just any building. The condo tower named One57 is about as high profile and projects go, with record heights and a $90 million penthouse. Gary Barnett, president of the tower's developer, Extell Development, told Bloomberg News that he expects construction on One57 to be "back to normal" in a few days, adding that the city is taking charge of repairing the crane.
As with many large construction projects, One57 has a tangle of companies involved in addition to Extell. Lend Lease Construction was the general contractor responsible for building the project. Lend Lease, in turn, brought on Pinnacle Industries to provide and operate the crane. Usually the developer or the contractor has two main types of insurance: liability coverage for harm to third parties, and what's called builder's risk insurance, which kicks in if the building itself is damaged during construction.
If their liability insurance is typical, One57′s policy will cover any damage to other buildings and potentially would reimburse neighbors for evacuation-related expenses. The builders risk insurance might cover the damage to the crane and potential damage to the giant structure itself. "Typically, first party losses get handled must quicker," says David DeLaRue, vice president in the construction practice at the insurance broker Willis Group Holdings. "It's easy to say, 'I bought insurance on this crane, and the crane is broken.'" What's trickier is for the third-party claims, like the evacuees and neighbors. If someone makes a claim, insurance adjusters will need to ask two key questions, DeLaRue says: "Did our insured do anything to cause that loss?" and "Does this policy cover it?"
Mayor Mike Bloomberg said the city inspected crane after it had been secured for the storm, and he was careful not to assign blame or cry negligence. (The mayor is the founder and majority owner of Bloomberg LP.) That may not stop the insurance claims from flowing. "In this litigious society people sue for everything," says DeLaRue. "Even an act of God."
Before it's here, it's on the Bloomberg Terminal.
LEARN MORE