Under Financial Duress, Post Office Delivers
By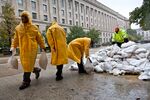 2:30 p.m., Oct. 30, 2012 — The federal government was shut down. Stock trading came to a halt. Most businesses up and down the East Coast were closed and people hunkered at home, hoping for the best, when lo and behold—the mail arrived.
Yes, even as Hurricane Sandy came crashing down on the Mid-Atlantic region, the U.S. Postal Service managed to deliver to some residents of Washington, Maryland, and Virginia. In an e-mail, USPS spokesman George Maffett says that letter carriers in a delivery area stretching from Atlanta to Baltimore hit all but 97,500 of the 7.7 million addresses they'd visit on a normal day. Only Ocean City, Md., whose residents were evacuated, didn't get mail. Service stopped in some parts of New York City, too. Maffett explains that USPS opened emergency operations centers to watch the weather and direct postal workers as they were out making deliveries.
Could the postal service's own battered image have something to do with that impressive effort on Monday?
Maffett's response: "In 2011, Oxford Strategic Consulting ranked the U.S. Postal Service number one in overall service performance of the posts in the top 20 wealthiest nations in the world."
Yet the agency is on the brink of financial disaster, with Congress fighting about how to save it. Late in September, the self-funded agency defaulted on a $5.5 billion payment owed to the U.S. Treasury, its second default in two months. The payment was required to fund future retirees' health benefits. USPS officials have cited that obligation as a big source of the agency's woes, along with years of declines in the amount of mail people are sending. That's why the agency's exceptional attention to customer service isn't likely to make much difference. Most people were so consumed with other media that they probably didn't even notice their mail carrier's valiant effort.
—Elizabeth Dwoskin