Swarmed Supermarkets Wait for Resupply
by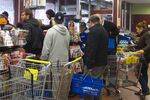 New Yorkers may have cleared out supermarkets this weekend, but they were back for more on Tuesday. "It's like any regular day," says Kevin Persaud, store manager at the Key Food in Brooklyn's Sunset Park neighborhood, glancing at the lines at several registers. "They're buying the essential stuff." By Tuesday afternoon, the store had nearly run out of bread, eggs, milk, and ice, as well as fresh produce, meat, and ice cream. That's because Sunday was "busier than the holidays!" says Persaud, adding that he is not expecting any deliveries until Thursday.
On Manhattan's Upper West Side, the Westside Market was also packed on Tuesday. "I didn't think it would be busy, but maybe when people were inside, they were just eating," says general manager Peter Athansakes. While suppliers have told him deliveries may come as early as Wednesday, he does not expect much to arrive by then. "Everyone is backed up two days," he says.
Before it's here, it's on the Bloomberg Terminal.
LEARN MORE