Storm-Surge Damage May Not Be Covered by Some Insurance
By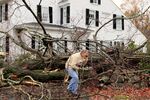 2:30 p.m., Oct. 30, 2012 — As storm-battered homeowners, business owners, and government officials survey Sandy's damage, the question for many is what the repair price tag will be. The storm's assault may cause as much as $20 billion in losses, but less than half of that is likely insured. Some damage, such as infrastructure repairs, will be covered by the government. But some losses simply won't be covered, leaving businesses and homeowners holding the bag.
Regular homeowners' and renters' policies don't cover flood losses. For residences, people must buy extra flood-insurance coverage, which is typically sold by agents as part of the government's National Flood Insurance Program. As many will recall, there was a big debate during and after Hurricane Katrina over whether damage was caused by flooding or wind, with wind damage covered by standard policies. Bob Hartwig, president of the Insurance Information Institute, a trade group, says "that issue has been settled. There is no question that a storm surge is a form of flooding."
That means that homeowners affected by Sandy's surges and who lack flood insurance are out of luck. Hartwig says that in low lying areas—such as parts of Brooklyn and Queens—"the penetration rates for flood coverage are very high." But not everyone has this coverage. Hartwig points out that even in New Orleans, a city that set largely below sea level, one in five homeowners didn't have flood coverage before Hurricane Katrina struck. He says the "silver lining" from Hurricane Irene last year is that more people in the Northeast bought flood insurance after seeing the damage that storms are capable of wreaking.
Businesses may be better off. Most commercial insurance policies do include protection against floods, but often the policies have a specific "sublimit" that caps the flood coverage, says Linda Kornfeld, an attorney at Jenner & Block who represents companies in insurance claims. That's true for policies that covers property losses, as well as the costs for business interruption due to an event such as Sandy. While storm-surge damage may be a form of flooding in residential policies, its nature is less clear for commercial policies, which tend to be more complex, Kornfeld says. "I wouldn't accept as a general proposition it's covered or not without reading the policy and without reading the case law in the state where the policy is," says Kornfeld.
A lot of people may soon became intimate with the fine print in their policies. While it's too early to know how many will file insurance claims, yesterday CoreLogic estimated that just in the top 25 at-risk zip codes of New York and New Jersey, about 62,000 properties were in danger of sustaining property damage.
—Karen Weise