Some Bridges Reopen, but MTA Has No Timetable
By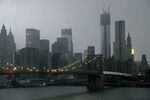 2 p.m., Oct. 30, 2012 — Even parts of New York that haven't lost power remain paralyzed by Hurricane Sandy. The Metropolitan Transportation Authority is unsure as to when subway services will resume—or what parts can be quickly repaired. The Brooklyn, Manhattan, and Williamsburg bridges that connect Manhattan to Brooklyn have reportedly reopened, but for a city whose residents rely so heavily on public transportation, even a partly inoperable subway system could have far-reaching economic impact in the coming days and weeks.
"Those portions of the system that can be up and running, I want them up and running as quickly as possible," MTA Chairman Joseph Lhota said in an interview on Tuesday with WNYC radio. Lhota stressed that no timetable had yet been set, so any estimate would be nothing more than a "wild guess."
—Claire Suddath
Before it's here, it's on the Bloomberg Terminal.
LEARN MORE