SeeClickFix Helps Citizens Report Damage
By
Flashlights Still a Hot Commodity in Manhattan
4:33 p.m., Oct. 30, 2012 — When Bob Fendell heard there was a storm coming, he could only think of one thing: flashlights.  The owner of University Housewares has been selling supplies to the Columbia University community since 1986, and he knew that his supply of flashlights, batteries and landline telephones was going to go fast. "Last year for Hurricane Irene I had to pay $1,000 to have an emergency shipment overnighted from Texas," he said, "there were lines in the street of people waiting to buy them." This year, he prepared ahead of time.  Fendell drove to his supplier's warehouse in Brooklyn last weekend to pick up an emergency shipment of batteries and flashlights. He doesn't have another shipment of goods arriving until Friday, but he knows some vendors who've been sharing supplies so he expects to remain fully stocked until then. It's a good thing, too. Sandy may have passed, but those who weathered the storm without emergency provisions have been coming in droves today to stock up so they're not caught off guard next time.
— Claire Suddath
An Anxious Wall Street Readies for Reopening
4:30 p.m., Oct. 30, 2012 — Thanks to Hurricane Sandy, for the first time since 1888 weather has stopped U.S. stock trading for two straight days. With the exception of at least one brave, renegade Starbucks outlet, Sandy's 90-mile-per-hour winds and storm surge left swaths of New York feeling time-warped back to the Gilded Age. The markets have gone dark on the anniversary of the Crash of 1929's Black Tuesday.
Back then, of course, Twitter hadn't yet finished its beta testing. Last night, one wag used that buzzing forum to quip that lower-Manhattan habitués Citigroup and Goldman may have to be bailed out a bit more literally than last time.
What's to come: the weeks-long hassle of co-location, telecommuting, and rerouting to account for closed subway stations. But since "Wall Street" spans farther than it used to—from the bond desks of Newport Beach, Calif., to Connecticut hedge fund country, flooding a few Manhattan skyscrapers' lobbies isn't the fatal blow to the markets it might once have been. Domestic equity trading is now spread across 13 exchanges and dozens of private broker-run venues.
Even so, Sandy could jolt Greater Wall Street into an anxiety and volatility it hasn't felt for months. Complacency has dominated equity and debt markets for much of 2012. The Standard & Poor's 500-stock index is up 12 percent, having traversed September and October with nary a quiver. Fixed-income markets are getting their dregs scraped, with junk bonds looking drunk and desperate portfolio managers chasing yield in Puerto Rico. The world's been lulled into a prolonged sense of "risk-on." Next week's presidential election could truly go either way. Details of a possible resolution to the national fiscal cliff are anyone's guess.
So the idea that Wednesday's planned, weather-permitting reopening of New York's stock exchanges could succumb to tech glitches is an especially scary one. "Do you really want to open up the market and have these potential issues right before the election, right before month end?" Matt McCormick, who helps oversee $7.3 billion at Cincinnati-based Bahl & Gaynor, asked Bloomberg News. "I'd rather be slow and correct than fast and wrong and really wrong. It's better to be conservative."
A market that's 25 years removed from the technical meltdown of the Crash of '87 is still disturbingly vulnerable to trading disasters. Witness the August software error at Knight Capital Group that nearly bankrupted the market maker, or the embarrassing opening delays Nasdaq experienced in its May debut of Facebook shares.
Bats Global Markets had to scotch its initial public offering when it couldn't get its shares to trade on its own exchange. Then there's the still-unresolved mystery behind the Flash Crash of 2010.
"I'm a little surprised that the exchanges couldn't secure the technology needed to keep the market operating," says Dominic Salvino, a specialist on the CBOE floor for Group One Trading, the primary market maker for VIX options. "It seems unreasonable that the nation's financial markets have to shut down just because everyone has located themselves within five miles of each other in New Jersey. A snowstorm in Chicago wouldn't shut down trading on the East Coast."
Forgive the pun, but the NYSE lies in uncharted waters. The last comparable closure of the storied exchange was during the blizzard of March 12 and 13, 1888. Ninety years later, the exchange closed for a day and a half after a February 1978 snowstorm.
So all fingers are crossed for Wednesday. The good, albeit mercenary-sounding, news is that traditionally, hurricanes have not hindered market gains. According to Standard & Poor's, the S&P 500 gained an average of 3.9 percent during the three months following each of the 13 costliest U.S. hurricanes and added 5.8 percent over the subsequent six months. As Sam Stovall, S&P's New York-based chief equity strategist, wrote in a note: "Equities are more likely driven by wider-reaching global events than localized natural disasters."
For what it's worth, this gorgeous rainbow was just spotted over lower Manhattan.
—Roben Farzad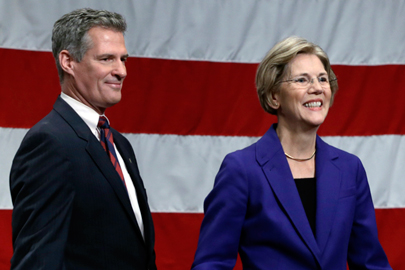 Brown, Warren Tussle Over Storm-Delayed Debate
4:06 p.m., Oct. 30, 2012 — Could Hurricane Sandy tip the balance in the tight Massachusetts senate contest?
On the afternoon of Oct. 29, the Scott Brown campaign issued a statement stating that he would not participate in his fourth and final debate against Elizabeth Warren, his Democratic Senate opponent, which was scheduled for the following evening. The storm was bearing down on the East Coast at the time, and the severity and extent of damage would not be known for many hours. "It is simply not appropriate to go forward with a political debate when a disaster strikes," Brown spokesperson Colin Reed said in the statement.
Not to be outdone, the Warren campaign quickly followed up with a statement of its own: "With concern for public safety and cleanup paramount, Elizabeth believes the debate should not be held tomorrow." The debate had been scheduled for 7 p.m. on Tuesday evening at the WGBH studios in Boston and was sponsored by a group of Boston media outlets, including The Boston Globe, New England Cable News, and WBUR. CNN's John King was to moderate, and the event was expected to be the highest-profile event of the candidates' four face-offs.
Then—after everyone agreed that it was not the time for politics—things became political.
On Tuesday, as both candidates began visiting storm-damaged communities, the Warren camp announced that it still wanted to hold the debate and had "contacted the debate organizers and let them know that she would be available to participate on Thursday evening."
Brown, for his part, seems less than eager. "We've already had three debates," he told the Boston Globe in Westport, Mass. "There's only a few days left and we have a very, very busy schedule."
Senator Brown's reluctance to reschedule, if that's what it is, is easily understood in the context of the race. The most recent poll, conducted by The Boston Globe, shows the candidates virtually tied at 47 percent to 47 percent. Warren was largely considered the winner during the candidates' last debate, held on Oct. 10 in Springfield, Mass. "I think Elizabeth Warren sees that it's to her advantage to continue debating Scott Brown," says Tim Vercellotti, a political science professor at Western New England University. "The debate in Boston was going to give her much more exposure, so it certainly seems to her advantage."
"I don't know what they're going to do," Vercellotti added. "Neither of these individuals has official duties that demand they engage in disaster relief."
—Sheelah Kolhatkar
SeeClickFix Helps Citizens Report Damage
3:45 p.m., Oct. 30, 2012 — As Hurricane Sandy snapped trees and took down power lines Monday night, officials across the East Coast urged citizens not to call 911 except in life-threatening emergencies. New York Mayor Michael Bloomberg said calls coming in at a rate of 10,000 per half hour—10 times the normal volume—regarding downed trees or flooding were crowding out callers who faced more immediate dangers.
Some citizens in the Northeast instead took to SeeClickFix to report storm damage. The website allows people to flag non-emergency problems such as potholes, broken sidewalks, or graffiti for local authorities to fix. Ben Berkowitz, founder of the 15-employee New Haven, Conn., company, says users in storm-affected areas logged about 800 issues from Monday afternoon to midday Tuesday.
"Most of what I see is power outages, traffic signals down, downed trees, branches dangling in power lines," he says, perusing the most recent reports. In some cities that have officially adopted SeeClickFix, including Boston, New Haven, and Washington, flagging an issue in SeeClickFix is tantamount to calling 311: A report gets routed to the appropriate agency for handling. He said traffic on Monday to the SeeClickFix site and mobile app was double its normal level.
Elsewhere, the site serves as a tool for citizens and media to keep track of what's going on. Media outlets from local bloggers to such news websites as Philly.com and NBC Washington put a map widget from SeeClickFix on their websites to let users report damage. The Huffington Post put up a SeeClickFix map so readers could report damage or lost pets, or request emergency supplies.
Berkowitz says the such tools can help lighten the load on emergency systems during a crisis. "There were hundreds and hundreds of people reporting power outages on here. That's the sort of thing people do call 911 for."
—John Tozzi
Does Mitt Romney Want to Get Rid of FEMA?
3:39 p.m., Oct. 30, 2012 — One of the problems politicians face, when claiming to want to cut government, is that occasionally the importance of having a strong, functioning government becomes vividly clear—like after a giant hurricane. That complicates things in a way that can be mighty awkward, as Mitt Romney is finding out today.
Last year, during one of the GOP presidential debates, Romney seemed to indicate that he wanted to cut or even privatize the Federal Emergency Management Agency. At the time, his comments barely made a ripple. Now, with FEMA leading the rescue efforts after Hurricane Sandy, the question of what Romney would do with the agency if he were to become president suddenly seems a lot more salient. And suddenly Romney doesn't want to talk about it, presumably because the prospect of gutting the budget for first responders or pushing them into the private sector wouldn't be very popular when they are breaking their backs to help people after the hurricane.
Throughout the day following Hurricane Sandy's landfall, reporters traveling with Romney have asked him what he'd do with FEMA—they asked him 14 different times, according to this report—and he has refused to answer. The question is all the more awkward because Romney has recast today's campaign rally as a "storm relief event."
Consider the transcript (PDF) from the CNN/WMUR debate in which Romney issued the following exchange about FEMA:
"JOHN KING: What else, Governor Romney? You've been a chief executive of a state. I was just in Joplin, Mo. I've been in Mississippi and Louisiana and Tennessee and other communities dealing with [disaster], whether it's the tornadoes, the flooding, and worse. FEMA is about to run out of money, and there are some people who say, 'Do it on a case-by-case basis,' and some people who say, you know, 'Maybe we're learning a lesson here that the states should take on more of this role.' How do you deal with something like that?
"ROMNEY: Absolutely. Every time you have an occasion to take something from the federal government and send it back to the states, that's the right direction. And if you can go even further and send it back to the private sector, that's even better. Instead of thinking in the federal budget, what we should cut—we should ask ourselves the opposite question. What should we keep? We should take all of what we're doing at the federal level and say, what are the things we're doing that we don't have to do? And those things we've got to stop doing, because we're borrowing $1.6 trillion more this year than we're taking in. We cannot—
"KING: Including disaster relief, though?
"ROMNEY: We cannot afford to do those things without jeopardizing the future for our kids. It is simply immoral, in my view, for us to continue to rack up larger and larger debts and pass them on to our kids, knowing full well that we'll all be dead and gone before it's paid off. It makes no sense at all."
— Joshua Green
Storm-Surge Damage May Not Be Covered by Some Insurance
2:30 p.m., Oct. 30, 2012 — As storm-battered homeowners, business owners, and government officials survey Sandy's damage, the question for many is what the repair price tag will be. The storm's assault may cause as much as $20 billion in losses, but less than half of that is likely insured. Some damage, such as infrastructure repairs, will be covered by the government. But some losses simply won't be covered, leaving businesses and homeowners holding the bag.
Regular homeowners' and renters' policies don't cover flood losses. For residences, people must buy extra flood-insurance coverage, which is typically sold by agents as part of the government's National Flood Insurance Program. As many will recall, there was a big debate during and after Hurricane Katrina over whether damage was caused by flooding or wind, with wind damage covered by standard policies. Bob Hartwig, president of the Insurance Information Institute, a trade group, says "that issue has been settled. There is no question that a storm surge is a form of flooding."
That means that homeowners affected by Sandy's surges and who lack flood insurance are out of luck. Hartwig says that in low lying areas—such as parts of Brooklyn and Queens—"the penetration rates for flood coverage are very high." But not everyone has this coverage. Hartwig points out that even in New Orleans, a city that set largely below sea level, one in five homeowners didn't have flood coverage before Hurricane Katrina struck. He says the "silver lining" from Hurricane Irene last year is that more people in the Northeast bought flood insurance after seeing the damage that storms are capable of wreaking.
Businesses may be better off. Most commercial insurance policies do include protection against floods, but often the policies have a specific "sublimit" that caps the flood coverage, says Linda Kornfeld, an attorney at Jenner & Block who represents companies in insurance claims. That's true for policies that covers property losses, as well as the costs for business interruption due to an event such as Sandy. While storm-surge damage may be a form of flooding in residential policies, its nature is less clear for commercial policies, which tend to be more complex, Kornfeld says. "I wouldn't accept as a general proposition it's covered or not without reading the policy and without reading the case law in the state where the policy is," says Kornfeld."
A lot of people may soon became intimate with the fine print in their policies. While it's too early to know how many will file insurance claims, yesterday CoreLogic estimated that just in the top 25 at-risk zip codes of New York and New Jersey, about 62,000 properties were in danger of sustaining property damage.
—Karen Weise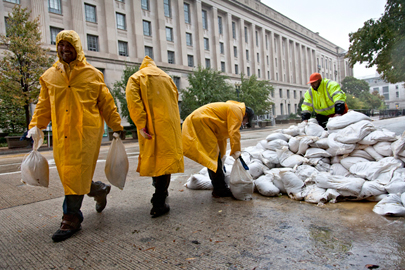 Under Financial Duress, Post Office Delivers
2:15 p.m., Oct. 30, 2012 — The federal government was shut down. Stock trading came to a halt. Most businesses up and down the East Coast were closed and people were hunkered up at home, hoping for the best, when lo and behold—the mail arrived.
Yes, even as Hurricane Sandy came crashing down on the Mid-Atlantic, the U.S. Postal Service managed to deliver to some residents of Washington D.C., Maryland, and Virginia. In an email, USPS spokesman George Maffett says that letter carriers in a delivery area stretching from Atlanta to Baltimore hit all but 97,500 of the 7.7 million addresses they'd visit on a normal day. Only Ocean City, whose residents were evacuated, didn't get their mail. Service stopped in some parts of New York City, too. Maffett explains that USPS opened emergency operations centers to watch the weather and direct postal workers as they were out on deliveries.
Could the postal service's own battered image have something to do with that impressive effort Monday?
Maffett's response: "In 2011, Oxford Strategic Consulting ranked the U.S. Postal Service number one in overall service performance of the posts in the top 20 wealthiest nations in the world."
Yet the agency is on the brink of financial disaster, with Congress fighting over how to save it. In late September the self-funded agency defaulted on a $5.5 billion payment owed to the U.S. Treasury, its second default in only two months' time. The payment was required to fund future retirees' health benefits. USPS officials have blamed that obligation as a big source of the agency's woes—along with years of declines in the amount of mail people are sending. That's why the agency's exceptional attention to customer service isn't likely to make much of a difference. Most people were likely so consumed with other media that they probably didn't even notice their mailman's valiant effort.
— Elizabeth Dwoskin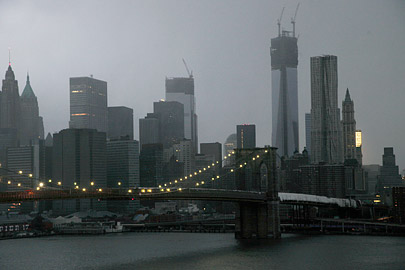 Some Bridges Reopen, But MTA Has No Timetable
1:51 p.m., Oct. 30, 2012 — Even parts of New York that haven't lost power remain paralyzed by Hurricane Sandy. The Metropolitan Transportation Authority is unsure as to when subway services will resume—or what parts can be quickly repaired. The Brooklyn, Manhattan, and Williamsburg bridges that connect Manhattan to Brooklyn have reportedly reopened, but for a city whose residents rely so heavily on public transportation, even a partly inoperable subway system could have far-reaching economic impact in the coming days and weeks.
"Those portions of the system that can be up and running, I want them up and running as quickly as possible," MTA Chairman Joseph Lhota said in an interview on Tuesday with WNYC radio. Lhota stressed that no timetable had yet been set, so any estimate would be nothing more than a "wild guess."
— Claire Suddath
1:39 p.m., Oct. 30, 2012 — New York and New Jersey residents are now eligible for disaster help and resources. Go to DisasterAssistance.gov for more information.
Mayor Bloomberg: 'People Just Don't Understand How Strong Nature Is'
12:38 p.m., Oct. 30, 2012 — Mayor Michael Bloomberg spoke to New Yorkers Tuesday morning, announcing that city schools would be closed Wednesday and saying it might take up to five days to get subways running. Runways at the city's airports are flooded, many in the region are without power, and 6,100 residents are staying in emergency shelters. "We expected an unprecedented storm," the mayor said. "That's what we got."
As the mayor's star sign-language interpreter, Lydia Callis, translated, the mayor provided additional updates:
—Public transportation is closed until further notice, with no timeline set for its restoration. Limited bus service may be restored, "perhaps this afternoon."
—Roads may be clear and free of water as soon as Wednesday.
—A few hospitals are closed, including New York Downtown Hospital, the only hospital in lower Manhattan. NYU Langone and Coney Island hospitals have been evacuated. Bellevue Hospital Center is running on backup power.
—The collapsing crane on West 57th Street is currently stable but cannot be fully secured until the winds die down.
—The 311 emergency lines are currently experiencing long wait times. The 911 lines had delays up to 5 minutes at some points but is now operating more smoothly.
—There have been more than 4,000 tree-service requests. The mayor advises people to continue to stay out of parks. "I think people don't understand just how strong nature is," Bloomberg said.
—Emily Biuso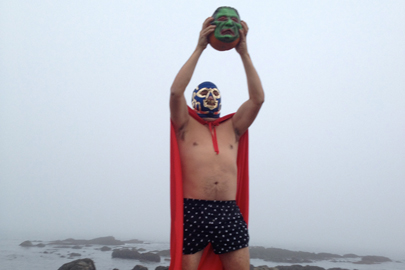 Artists Find Inspiration in Hurricane's Fury
12:31 p.m., Oct. 30, 2012 — As most of the East Coast hid from Hurricane Sandy, Gil Corral and his wife went out onto Fortune's Rocks Beach in Biddeford Pool, Maine, to take this photo. Corral, an artist, has photographed the character, which he calls "El Chicharron" (or "pork rind"), in snowstorms and other severe weather. "It does definitely inspire creative thought, these events," he says. "I'm just trying to bring some relief. Everyone was freaking out."
Corral did the shoot Sunday evening, before the hurricane made landfall. "We're in Maine, so Sandy didn't really hit directly," he says, "but the seas were stormy, winds were high, lots of rain." Corral is using the photo to make refrigerator magnets, which he's already selling on Etsy.com for $5 each.
In Baltimore, artist Jamie Shelman has produced this Sandy-inspired ink drawing. "In this instance, I found it funny that society in general always has the same response to the fears related to a weather event," she says in an e-mail. "My drawing is a comical response to those societal responses ( i.e., empty the shelves of toilet paper, white bread, and milk!) And also lashing yourself to what you perceive as an immovable object—in this case a tree—is a comical and not good idea." Shelman says she'll make 40 prints of the drawing.
John Ballou, an artist in Rochester, N.Y., says, "Sometimes the best way to break through the horrific loss is with a little bit of humor after the waters have receded." He's made 20 rubber-stamp cards that read: "Frankenstorm Survivor."
—Venessa Wong
New York Airports Shuttered
11:30 a.m., Oct. 30, 2012 — Air travelers looking to fly to or from the U.S. Northeast are largely out of luck today, and Wednesday may not be much better. Federal authorities and the Port Authority of New York and New Jersey closed New York's three main airports, John F. Kennedy International, Newark Liberty, and LaGuardia, on Monday over concerns about flooding caused by Hurricane Sandy. It's not clear yet when traffic may resume. Here's an FAA map of the airports' current status; a black dot means an airport is closed.
Since Sandy began its northward march from the Caribbean, airlines have scrubbed more than 16,200 flights, according to flight tracker FlightStats. More are likely as aircraft will need to be repositioned.
—Justin Bachman
Before it's here, it's on the Bloomberg Terminal.
LEARN MORE