Sandy Grounds Northeast Air Travel
by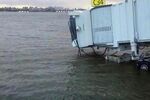 Anyone hoping to fly to or from the northeastern U.S. today was largely out of luck, and Wednesday won't be much better, at least around New York City. The federal government and the Port Authority of New York and New Jersey closed the area's three main airports (John F. Kennedy International, Newark Liberty, and LaGuardia) on Monday over flooding caused by Hurricane Sandy, and while it's unclear when traffic may resume, the major carriers do not expect to return their planes to the city before Thursday.
Here's an FAA map of the airports' current status. A black dot means an airport is closed.
"It's just water, water everywhere," says Michelle Mohr, a spokeswoman for US Airways, which parked about 85 planes at its Charlotte hub and a roughly equal number in Pittsburgh ahead of the storm on Monday. Airlines such as United, Delta, and American are aiming to restore service in Washington, Boston, Philadelphia, and Baltimore late Tuesday and Wednesday, but the outlook for New York remains dimmer given worse flooding.
New York Governor Andrew Cuomo said he expected JFK would reopen on Wednesday, but LaGuardia would not. LaGuardia, which is closer to Manhattan, is a favorite for business travelers and the site of near-hourly shuttle services to Washington and Boston. Both airports are adjacent to large bays, with runways that sit beside water. One of LaGuardia's runways was built partly over Flushing Bay.
Airlines canceled nearly 6,200 flights on Tuesday at the eight largest Northeast airports, down slightly from Monday at the height of the storm, according to data from FlightView, a flight-tracking software firm in Newton, Mass. Since Sandy began its northward trek from the Caribbean, airlines have scrubbed more than 16,200 flights, according to flight tracker FlightStats.
Airlines worked over the weekend to get their jets out of New York ahead of the pending storm and to rebook passengers. Most airlines allowed passengers with travel reservations through Nov. 1 to alter their plans, which reduced airport strandings. "Folks, in general, got a sense that this was going to be a real storm and got their plans in order," Mohr says.
Before it's here, it's on the Bloomberg Terminal.
LEARN MORE