No Togas Allowed (Scary Halloween Workplace Etiquette)
By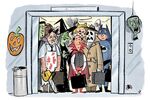 I'm bad at Halloween. Every year, I come up with elaborate costume ideas. (David Bowie from Labyrinth! The fawn creature from Pan's Labyrinth! An actual labyrinth!) But then, I'm crippled by a combination of laziness and poor craft skills, and I never follow through with them.
Instead, I'll walk into a costume store two days before Halloween, spend $80 on scratchy, synthetic fabric sewn into a lopsided Abraham Lincoln outfit, and wear that instead. When I try it on at home, I'll realize I've grabbed the wrong costume. This is Babe-raham Lincoln. I definitely can't wear this to work.
Halloween work parties are sort of like family gatherings: They're just one slutty outfit or mildly offensive ethnic stereotype away from stifling awkwardness. "They're so lame, I never want to dress up for them," says Drew Zandonella-Stannard, who used to work at the Hartman Group marketing agency in Bellevue, Wash., a company that's very big on Halloween. "We'd have a big party at lunchtime and that was a lot of fun, but then the rest of the day you had to sit at your desk wearing your costume, and it was really weird."
Zandonella-Stannard and her co-workers solved this problem by dressing up as Mad Men characters. "We fit right in, we just looked like we were exceptionally dressed-up that day." Her boyfriend, who also works at Hartman, learned about work-appropriate costumes the hard way: He wore a toga to the office. And of course, it unraveled. "That year was the year he decided he didn't want to dress up any more," Zandonella-Stannard says.
O.K., so togas are out of the question. And you should probably steer clear of anything that satirizes your company or industry. As the now-defunct law firm, Steven J. Baum, learned last year, if you represent banks and mortgage lenders that foreclose on people's homes, it's probably not wise to dress up as homeless people carrying cardboard placards.
To find out what costumes I can wear to the office, I called my friend Chinae Alexander, a public relations director in New York who also runs the BeBetter Blog—a sarcastic, Tumblr-ized version of an advice book."Showing your boobs at work doesn't usually go over great," she told me,"but if you have to do a sexy costume, try to be something that's not inherently sexy. Like a sexy pot roast."
She also recommends classic costumes such as a ghost made out of bedsheets. That's definitely inoffensive—unless you have black satin bed sheets, in which case you might just want to be something else. But if you pick a classic costume, you run the risk of being just one of many witches (or mummies or zombies) at the party. Maybe not even the best one.
I prefer more original ideas such as the one staff members at the University of California, Santa Barbara (UCSB) came up with last year: They decorated their office in a One Flew Over the Cuckoo's Nest theme, with their receptionist as Big Nurse and all other staff members as the patients. UCSB has a long-running inter-department Halloween contest, complete with prizes and a free pizza lunch. One year, researchers turned a lab into a mad scientist's lair, complete with bubbling potions and weird creatures in beakers.
Not all offices hold Halloween parties, of course. Bloomberg Businessweek has no formal dress-up plans, although one of our graphics designers wore a green morphsuit around the office earlier this year—and that was just a random weekday. I asked Alexander if she had any recommendations for low-key costumes befitting people like me who work in Halloween-averse offices.
"Just do what I did last year and wear a giant wig," she said. "It wasn't too invasive and it didn't weird anyone out. It just looked like a drag queen was sitting at my desk, that's all."
Before it's here, it's on the Bloomberg Terminal.
LEARN MORE