In Sandy's Wake, an Aid Website Gets a Big Test
By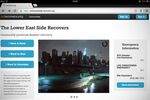 On Manhattan's Lower East Side, where power failed and water flooded the streets Monday night, some residents are testing a new website to organize their response. The site, LowerEastSide.Recovers.org, matches volunteers with people who need their help.
Those in need can post requests for goods like flashlights, water, and food. Volunteers can post offers of donated goods or labor. The parent site, Recovers.org, is a clearinghouse designed to manage the logistical chaos that often follows a disaster, when unsolicited aid can overwhelm officials and organizations unequipped to handle it. Volunteers in other New York neighborhoods, including Red Hook in Brooklyn and Astoria in Queens, have set up local sites for their communities.
Recovers.org is the brainchild of Caitria O'Neill, whose home was wrecked by a tornado in Monson, Mass., days after she graduated from Harvard in 2011. She and her sister Morgan spent the next two weeks coordinating the town's disaster recovery, dispatching volunteers and matching donations with the people who needed them. They used an ad hoc suite of Web tools including Facebook, Google Docs, and Google Voice to manage the response from an emergency shelter.
Afterward, O'Neill began to think about how communities could better install recovery infrastructure ahead of a disaster. She and a small group of volunteers have tested their website after a handful of emergencies, including damage caused by Hurricane Isaac in Alabama and Florida. O'Neill is just beginning to promote a paid subscription model for communities that want a local Recovers site in case of emergency.
O'Neill, who is in San Francisco completing a Code for America accelerator program for civic-minded startups, got a message from a friend in New York overnight asking for help. "A friend involved in Occupy Wall Street was looking for a way to start canvassing, databasing resources and requests for help, rather than just having people tweet them," she says.
This morning she helped set up LowerEastSide.Recovers.org. One urgent request came from a building on Rutgers Street with senior citizens who could not evacuate; they asked for food, water, and flashlights, and received several responses in a few hours. The site as a whole saw more than 100 offers of help in its first several hours, including donations, offers of shelter, and translators, O'Neill says. By mid-afternoon, the site was getting about 150 to 200 hits per minute.
The immediate goal is to "document all of the goodwill, the people that want to help," O'Neill says. Beyond that, the group wants to train neighborhood organizations like churches and community centers to become administrators of their local websites, so they can take donations and direct them where they're most needed. "We're trying to protect people by putting that middleman in there," she says. "These community organizations, they're aware of which blocks are damaged."
O'Neill was scheduled to show off Recovers.org to potential investors Tuesday at the startup accelerator's demo day. Thanks to Sandy, the site will get a bigger demonstration than she'd planned.