Hurricane Sandy: Live Storm Reports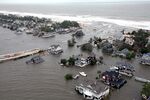 A Flooded Game Maker Unloads on a Shipping Giant
6:49 p.m., Nov. 5, 2012 — Like plenty of fellow Northeast business owners, Joel Berger is still dealing with a slew of Sandy-related hassles, including cleaning up one of his flooded warehouses in Long Island City, Queens, near the Midtown Tunnel. The water, which reached about two feet up the walls, ruined "tens of thousands" of dollars worth of checker sets, puzzles, and other games at his 65-year-old company, Cardinal Industries. "It's never been impacted before, in all the years we've been here."
Berger hasn't had much time to kvetch about Cardinal's troubles or trumpet its fortitude. He's been driving into Long Island City from his powerless home in Westbury, Long Island, to join many of his 40 employees in a cleanup effort that involves "unloading maybe 1,000 pallets" in the 20,000-square-foot warehouse.
Still, Berger felt he had to carve out a few minutes to vent about one unexpected headache: a shipping behemoth that is tacking on fees to deliver his goods that it rerouted because of the storm.
Berger hired Maersk Lines (MAERSKB:DC) to bring about 10 containers by ship from China to New York. Last week, he received an e-mail from Maersk indicating that his containers had been discharged in Norfolk, Va., because New York area ports had closed in anticipation of Sandy. Port Elizabeth reopened on Nov. 4; Newark and Jersey City ports reopened Monday; and  those in Red Hook, Brooklyn, and in Staten Island remain closed, says Steve Coleman, a spokesman for the Port Authority. "The last time they were closed down for multiple days was after 9/11," he notes.
Berger understands why Maersk, which is the world's largest container line, didn't want to delay its ships. "But now to bring it where it was originally consigned to, they want $775 per container"—or "we can pick them up [for free and return them ourselves] in Norfolk." He acknowledges that Maersk isn't violating the terms of its contract. "Buried in the boilerplate … they can do anything they want," he explains. "But with everything that's going on in New York, wouldn't you think they would just send it back in just for the heck of it?"
When I contacted Maersk, which is headquartered in Copenhagen, a spokesman indicated that a colleague in the U.S. would respond, but no one had done so as of Monday evening. Charging because of natural disasters "is not the right way to handle it," says Charles Clowdis, managing director of transportation advisory services at researcher IHS. "But if you're small … you don't have the purchasing leverage to make them do it."
"It's just a moral question," says Berger. "Can we afford the $775 per container? Yes, and that's what we're going to have to do. Do I think it's the right thing to do? They're loading barges from Norfolk to New York. I've got to believe—I'm not sure, I don't know the costs, [but] I don't think it costs $775 … Either way, whatever it is, it would've been a good little gesture to their own customers," he says, to waive the fee.
– Nick Leiber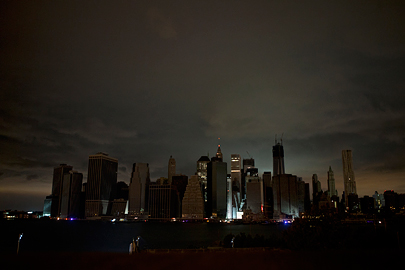 Hurricane Sandy Boosts the Generator Makers
5:19 p.m., Nov. 5, 2012–After thrashing the East Coast last week, Hurricane Sandy left millions of households struggling without power. Lower Manhattan fell into an eerie darkness for days, sparking jokes that the district would thenceforth be known as "Little North Korea." That kind of blackout, especially coming a mere 14 months after Irene swept through the Northeast and caused major flooding, is likely to have many people considering how to avoid the dark and chill next time.
Enter the home power generator.
Aaron Jagdfeld, chief executive officer of Generac Holdings, the leading U.S. seller of household generators, predicts that his company will enjoy a post-Sandy boost. "We believe that this event, as well as other recent outages, will have a positive impact on our results," he said during an Oct. 31 conference call with investors. He added that net sales for 2012 are expected to rise "in the low 40 percent range" over last year. The company's shares have jumped 37 percent since Oct. 26, including a 12 percent increase on Monday.
To an extent, the sales boost will likely be permanent. Judging by what the Waukesha, (Wis.)-based company has experienced over the past decade, Jagdfeld said, "we see a spike in sales [following big outages], and that spike in sales settles down into a baseline that was higher than the previous baseline, prior to the events."
Generac hopes that Sandy will raise consumer awareness not only for portable generators, but also for standby generators, which are permanently installed into homes and don't require gasoline—a scarce commodity in Sandy-devastated regions these days. "What you're seeing right now is that gas stations don't even have power, so you can't get the gas out of the ground to run your portable generator," says Duane Nelson, Generac's vice president of marketing. "Standby generators run off your home's existing natural gas or LP supply, so you don't have to do any refueling."
Standby generators are, of course, more expensive than portables, costing anywhere from $1,900 to tens of thousands of dollars. They also require professional installation, which adds further expense. Portable generators retail for as little as $300.
Only about 3 percent of U.S. homes currently have standby generators while about 15 percent have portables, according to Generac, which tracks industry sales, including those from competitors such as Briggs & Stratton and Kohler.
Storms alone aren't the only causes of power outages. "While storms like Hurricane Sandy make headlines, outages like that only account for half the power outages (or less) every year," says Nelson. "Power outages occur for any number of reasons, including human error, equipment failure—and you wouldn't believe the number of stories about animals getting caught up in power transformers and things like that." He points out that about 41 million people were affected by power outages last year, while Hurricane Sandy, an impressive storm in terms of its impact, left only about 8.5 million without power.
Perhaps the greatest problem, according to Nelson, is that America's electrical system is aging, and little is being done to modernize it. "Most of our power lines, especially on the East Coast, are above ground, and the cost to bury them is extremely expensive," Nelson says. "The government estimates it to be a $2 trillion project."
On top of that, demand for electricity is increasing as the population expands and people use more devices. Says Nelson: "We like to say that we live in a digital society, but we still have an analog grid."
–Caroline Winter
The People Behind Hurricane Sandy's Soundtrack
1:28 p.m., Nov. 5, 2012 — At this point in the endless news coverage of Hurricane Sandy, we're all familiar with the swelling, emotional orchestral works that play over montages of the devastating destruction. So where does that music come from? TV studios, of course, don't have orchestras in their production rooms. Instead, they download event-appropriate tracks from music libraries, such as New York's Audio Network, which services media globally, including Bloomberg.
Bloomberg Businessweek tracked down Chris Egan, a London musician who in 2009 co-wrote Flying Fortress, one of the tracks Bloomberg Television has been using for Hurricane Sandy reports.
"When we composed the piece, we thought about the following images: military, warfare, devastation. Sadly, Sandy falls into the last part," he writes in an e-mail. "When writing production music, we always have a very clear vision of the mood and emotion we are trying to portray with the track. … Otherwise, you just end up with generic music that doesn't do anything."
News producers working on hurricane stories may have found tracks by searching under such keywords as "urgent, news, tension," Audio Network spokesperson Kristen Harold explains. For aftermath stories, they might search under "sad, reflective, orchestral."
At Audio Network, downloads of tracks in the news and current affairs genre during the hurricane increased 200 percent to 300 percent, to more than 10,000, says Harold. "This has certainly been the biggest news event for us this year," she says.
According to Miami musician Tim Devine, one of Audio Network's most-used composers, "news networks use a somber tenor, or an inspirational tenor if it's a tale of survival," he says. "Obviously, with something as terrible as a hurricane, you can't be flip with the music—it has to be meaningful, but not take over the story."
– Venessa Wong
Some NYC Schools Will Do Double Duty as Shelters Next Week
6:48 p.m., Nov. 2, 2012 — New York's schools have been shut for a week, but Brooklyn Technical High School in Fort Greene is bustling. The stately brick building is one of several schools that's been converted into a shelter for Hurricane Sandy evacuees. Inside, aid workers in neon crossing-guard vests shuttle through the corridors, coordinating volunteers who've come to help elderly and mentally ill evacuees, some of whom need around-the-clock assistance.
Outside the school's entrance, a small group of weathered storm survivors mills about, smoking cigarettes. David Maysonet, a 47-year-old who came to the shelter after his Coney Island home flooded and lost electricity and running water, is leaning against a wall. "It's pretty comfortable, I guess," he says of the high school. "Except we're so many people sleeping in the gymnasium and everyone is snoring—about 150 of us."
Things may soon get more hectic. Classes will resume on Monday, Nov. 5, and shelter inhabitants will live alongside returning students.
While New York is consolidating its shelters, eight schools are expected to house evacuees on Monday—and until further arrangements can be made. Besides Brooklyn Tech High School, these include FDR High School and John Jay High School in Brooklyn, Graphic Arts High School and George Washington High School in Manhattan, Hillcrest High School in Queens, and Susan Wagner High School and Tottenville High School in Staten Island.
"We will make sure our students are protected and safe and getting an education and—at the same time—we'll make sure that the residents there are also safe and protected and having a roof over their heads," Dennis Walcott, chancellor of the New York City Department of Education, told NY1. The Department of Education confirmed the list of schools but would not comment.
Certain schools, such as Brooklyn Tech, may also be used as polling places on Nov. 6. (At least, according to information from Oct. 28). Luckily for New Yorkers, students will have that day off.
Connecticut schools will be crowded on Tuesday, as voters jostle among students at schools that have chosen to remain open during polling. "This presents certain logistical challenges for access of voters to the polling place, traffic in the building, and available parking for voters on what is expected to be a high turnout Election Day," reads a press release put out by Secretary of the State Denise Merrill. Her staff is urging school administrators, municipal officials, and state emergency management officials to ask school superintendents "to consider either not holding school on Election Day, going to a half day schedule or find accommodations to share the space."
As for Maysonet, he's optimistic about Brooklyn Tech's multifunctional use in the coming days. "I think," he says, pausing for a moment. "I think it's gonna work. Not because things are run well, necessarily, but because it has to."
– Caroline Winter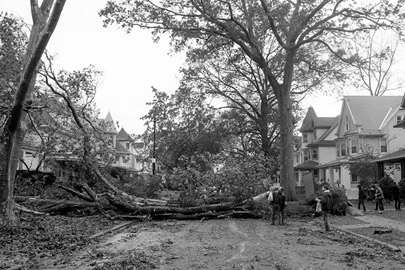 It's a Helluva Town
Photographer Timothy Briner set out to document the chaos visited upon several Brooklyn neighborhoods amidst the arrival and aftermath of Hurricane Sandy. By day, Briner made his way through the neighborhoods of East Flatbush, Brownsville, and Canarsie. During the evenings, he returned to document the fallout in his own Brooklyn neighborhood of Ditmas Park.
Displaced Workers Find Impromptu Co-Working Spaces
4:47 p.m., Nov. 2, 2012 — With many office buildings in Manhattan still without power, mobile workers are finding ways to coexist—peacefully, for the most part—wherever they can find a power outlet and an Internet connection. The savviest nomads, weary from the battle for space at cafes, are now making temporary homes in other offices—some of which have opened to other workers for free.
On Wednesday, Noel Hidalgo, co-founder of website development firm New Amsterdam Ideas, quickly set up this site listing locations where people can "work, recharge, and reconnect." These include places that are open to the public for free, as well as traditional co-working spaces that charge a fee. Unable to work from his office in Chinatown, Hidalgo says he's operating from a co-working space in Williamsburg, Brooklyn. As of 2:30 p.m. on Friday, the site had 36 office locations listed in Midtown.
Ellen Manuszak, senior account executive at public-relations firm TriplePoint, is working at her friend's office at advertisers LocalResponse on 28th Street. Several desks were open, as some employees were not able to make the commute. Manuszak is not the only guest—she estimates about half the people there on Friday morning were not LocalResponse employees.
In the garment district, Christina Wallace, co-founder of women's apparel company Quincy, opened up the company's office to workers in need. She says on Thursday about 15 people, both friends and strangers from New York's startup community, came to recharge devices and, in some cases, work all day. The office was designed to be flexible, so they expanded tables, brought out extra chairs, opened up the showroom, and offered seating on the floor with pillows. Her team played music and offered visitors red wine at the end of the day.
"We're happy to keep it open next week if people are in need of space or plug-ins," Wallace says. "I'd love to keep the co-working going."
– Venessa Wong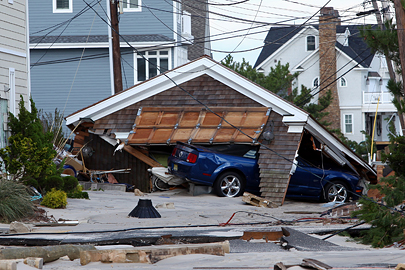 Sandy Means Record Week for Roof Measuring Company
3:28 p.m., Nov. 2, 2012 — Chris Barrow, chief executive of EagleView Technologies, was just beginning to reduce the hours for his 200 employees to account for the slow season when Hurricane Sandy hit. Now, his Seattle company is closing out the busiest week in its four-year history.
EagleView's software uses aerial pictures to calculate the size of roofs so insurers and contractors can estimate damages. Orders from insurance companies started pouring in Tuesday morning, Barrow says, as homeowners on the East Coast began filing insurance claims. "It kind of surprised us a little bit," he says. "The winds were still blowing."
EagleView's software pulls existing aerial photos of buildings and determines the size and pitch of the roof, measurements that would otherwise need to be taken by a person climbing up a ladder. Barrow says orders are up nearly tenfold from a normal week, with more than 20,000 daily requests, most of them Sandy-related.
The reports cost about $50, though EagleView negotiates bulk discounts with insurance carriers, Barrow says. After the insurance companies, he expects two more waves of business from claims adjusters and contractors. Using the reports lets claims adjusters visit double the number of damaged homes than they could if they had to measure roofs by hand, he says.
EagleView is keeping on full-time workers who were expecting to have their hours reduced for the winter, when construction slows. "We increased the Red Bull that we buy," Barrow says.
– John Tozzi
3:01 p.m., Nov. 2, 2012 — Hurricane Sandy was among the most devastating storms recorded on the U.S. East Coast, even with the losses still being tallied. The costs in lives and dollars are tragic, but Sandy's toll is less than those of many recent catastrophes. Cyclone Nargis killed 138,000 people when it ravaged Myanmar in May 2008. Sandy cut power for 8 million customers; a grid failure in India this summer left 640 million in the dark. Here's how Sandy compares, so far, with Hurricane Katrina and with the Tohoku earthquake and tsunami that struck Japan in March 2011.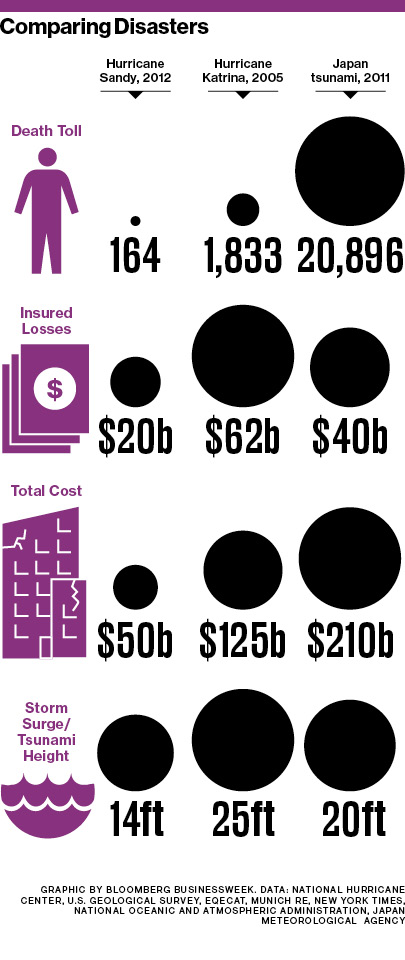 – John Tozzi and Evan Applegate
Blackout Bag Lunch: Simple Recipes For Those Without Electricity
2:12 p.m., Nov 2, 2012 — Like the rest of Lower Manhattan, Parigot has been without power since Monday night. But the restaurant has bravely forged on, able to cook on gas stoves and serve drinks, and has kept its doors open from morning until 6 p.m. Owner Catherine Amsellem says that among the handiest ingredients to have during the blackout are French cheeses, many of which don't need to be stored in a cold environment. Just keep them near a cool window, she advises.
For those who have no access to power or a working stove, Amsellem and chef Michel Pombet suggest a simple cheese sandwich. If you can still get fresh produce, go for root vegetables such as carrots, or hardier leaf vegetables like endives, which have a longer shelf life. No measurements are included with these recipes—just work with what's available.
Cheese Sandwich
Any variety of French cheese, such as brie, Camembert, or goat
Mustard
Bread (whatever variety you can get at the supermarket)
Root Salad
Carrots
Tomatoes
Dressing: Mix the juice from 1 lemon, 1 tbsp mayonnaise or mustard, ½ cup oil (olive oil, if available), salt, pepper
Endive Salad
Endive
Blue cheese
Apple slices
Walnuts
Dressing
– Venessa Wong
As Sponsor of New York City Marathon, ING Comes Under Fire
1:10 p.m., Nov. 2, 2012 — (Updates with the 2012 marathon's cancellation.)
ING's sponsorship of the New York City Marathon turned into a branding disaster this week as a divided city debated whether the city should hold the ING New York City Marathon on Sunday.
On Friday evening, city and race officials announced that the marathon was canceled, after spending much of the week vociferously defending the decision to hold it in the wake of Hurricane Sandy.
The effort to continue with the marathon as planned while many area residents were without electricity and struggling had been met with widespread anger—particularly on Staten Island, where the race was set to begin and where locals continue to suffer from extensive damages from the storm. On Wednesday afternoon, Staten Island Borough President Jim Molinaro joined a growing chorus of New Yorkers calling for the Bloomberg administration to cancel the race.
"My God," said Molinaro. "What we have here is terrible, a disaster. If they want to race, let them race with themselves. This is no time for a parade. A marathon is a parade."
On Friday morning, the backlash grew, as the New York Post reported that generators, which in theory could be used to power darkened homes on Staten Island, have been set up in Central Park to power a media tent for the marathon. "They should make all of these runners bring food and water to people's houses who need it," Yelena Gomelsky, a Coney Island resident, told the Post. "They should bring all of these generators to buildings where old people live and give them power."
All of which placed ING–which has served as the title sponsor of the race since 2003–directly in the cross hairs of a large and vocal group of furious consumers, who were increasingly directing their displeasure at the bank even though its city officials and the race organizers who in the end decide whether the race moves forward.
By Friday morning, the official ING New York City Marathon Facebook page was brimming with comments knocking ING for the fact that the race was not canceled.
"Every single sponsor of this event and every single runner who shows up for this event should be ashamed!" wrote a commenter named Stephanie Clark.
"As an ING customer and a native New Yorker I am appalled that this event will go on while thousands of people are without help in this great city of ours," wrote Chris Pena. "Shame on ING for allowing this to go forward."
"Instead, ING, you should dedicate all of the resources being gathered NOW to all of the New Yorkers, CT, and NJ residents who are cold, thirsty, and tired from the devastation of Sandy," wrote Trevor Laubenstein. "Utterly irresponsible to hold this race."
The race's organizers announced that ING is donating $500,000 to aid victims of the hurricane. But the act of generosity did little to stem the disgust directed the bank.
"It's not the NYC Marathon it's the 'ING' NYC Marathon … and there is the answer as to why this is being run," wrote Kevin Foley on the marathon's Facebook page. "ING's name is on the race and so their interest are given higher priority that those of NYC."
"As a runner and native New Yorker I always wanted to make the NY marathon my first," wrote Nicole Neglia. "And 2013 was going to be the year. However in the wake of all that has happened not even will I never run a NY marathon but I will also boycott ING."
"Our hearts go out to the many people, businesses, and New York-based ING U.S. employees that have been impacted by Hurricane Sandy this week," emailed ING spokesman Joseph Loparco before the cancellation announcement. "ING U.S. will follow the City's directive and stands ready to support New York City in whatever actions it decides to take. Ultimately, it is the City's decision whether or not to conduct the event."
– Felix Gillette
How Bike Sharing Would Have Helped New York City After Sandy
1:08 p.m., Nov. 2, 2012 — As New York City recovers from Sandy, one of the problems for city dwellers is simply getting to work. Hundreds of outer-borough residents stood in lines to catch buses or ferries into Manhattan or find a car looking for an extra passenger to meet temporary minimum occupancy rules imposed by Mayor Michael Bloomberg. The hassle left at least a few commuters wondering if the city's bike-sharing program, which was supposed to begin this summer but was delayed until at least next spring, might have helped. "If NYC had implemented the bike share, the post Sandy transportation mess could have been avoided," Wall Street Journal reporter Reed Albergotti suggested on Twitter yesterday. That's an overstatement, but 7,000 bikes at 420 stations—many of them in exactly the areas hardest hit by power outages and the lack of subway service—probably would have helped.
"It would really be a great complementary mode for people to get around in a safe way and not have to worry about traffic congestion," says Paul DeMaio, founder of MetroBike and a consultant on Washington, D.C.'s Capital Bikeshare system, which was rolled out in 2008. In D.C., DeMaio says, bike sharing has proved useful in the aftermath of Sandy, as well as during past disruptions to the transportation network. Capital Bikeshare closed for about 36 hours during Sandy to keep riders from attempting to brave the dangerous weather, but it was back up about an hour before the city's public transit system. "As soon as we flipped the switch back on, it was being very well used," says DeMaio. In August 2011, when an earthquake rattled the city and left many commuters looking for a way around snarled traffic, Capital Bikeshare experienced a 34 percent increase in trips per day. "We had just a few bikes that were kept beyond 24 hours. People were respectful of the service, and they were able to use the service to get home to their loved ones."
Alta Bicycle Share, the company that runs D.C.'s system, will also operate New York's. Its solar-powered stations do not rely on the grid for bike check-in and return, and they have proven resilient in storms. "Our stations have made it through a couple of hurricanes now where we've had wind gusts up to 75 miles per hour," says DeMaio, who notes that the planned solar towers at stations in New York, unlike in D.C., do not have overhanging panels and would probably perform even better in high winds. (Alta Bicycle Share has not responded to an e-mail requesting comment.) Bike shares are not a "panacea" says Noah Budnick, deputy director of Transportation Alternatives, an advocacy group for cyclists in New York, but they do provide another failsafe. "What we're seeing in the last couple days in general about biking is that it really adds to the resilience of the city's transportation system," says Budnick. "I'm standing on the Manhattan Bridge right now, and I've never seen bike traffic like this."
–Ira Boudway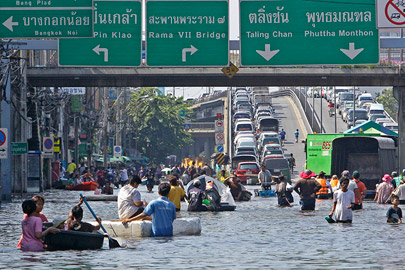 Sandy Will Re-Open a 'Black Box' of Insurance Claims
10:18 a.m., Nov. 2, 2012–Each year Lloyd's of London, the company that invented what we now know as insurance, publishes what it calls "Realistic Disaster Scenarios," a detailed list of hypothetical nightmares–terrorist attacks, earthquakes, mid-air airline collisions.
Insurers run them through their own books as a stress test, to see what losses could look like. As in years past, in 2012 Lloyd's included a "North-East Windstorm Event," a hurricane that makes landfall in New York City, generating losses in the surrounding states as well. It would affect 11 airports, including Atlantic City International, La Guardia and Newark Liberty International. And it would exact just under $50 billion in residential losses and around $30 billion in commercial losses.
So Sandy, basically.
A brief note in the North-East Windstorm Event reads as follows: "Lloyd's recognises the difficulties involved in modelling losses from Contingent Business Interruption (CBI) covers. Managing Agents should therefore exclude CBI losses from this event." Translation: Neither of us really knows how this risk works. So let's just put a bookmark here and we'll come back to it.
A business interruption cover, usually thrown in as part of a property policy, protects cash flow lost to a catastrophe. Rather than compensate for the loss of a plant, for example, it compensates for the business lost when the plant is destroyed. Contingent business interruption insurance extends that protection to suppliers. If you make a car, for example, it's possible you may be covered for production time lost when the plant that builds your dashboard goes down.
This all seems prudent. It's also very difficult to model, and insurers are taking a bath on it. When commercial insurance premiums are low, as they have been for roughly the last five years, insurers throw in extra coverage to win business. When their investments are doing poorly, as they have been since 2008, the cash flow of new business becomes even more important. And so contingent business interruption clauses expanded down the supply chain.
Insurers facing competition, says Philip Reardon, will cover "not only suppliers, but suppliers of suppliers." Reardon, who runs property risk consulting for Aon, which brokers reinsurance (insurance coverage for insurers), has seen contract language that covers any supplier in a business's chain. "Some insurers didn't know what they were offering," he says. In an interview with Bloomberg News last year, Jochen Koerner of insurance broker Marsh & McLennan described contingent business interruption covers as "a massive black box."
Insurers got to peek inside last year, which reinsurer Swiss Re reports was the worst year for global insured property losses since it began keeping industry-wide records in 1970. Three events drove those losses — the earthquakes in Japan and New Zealand, and floods in Thailand. The losses in Japan and Thailand, both manufacturing hubs, showed insurers and reinsurers how exposed they were to contingent business interruption. In an interview with Bloomberg Businessweek last year, an executive at Munich Re, a reinsurer, recalled how she had discovered the day after the earthquake in Japan that a manufacturer in Louisiana had run out of chips. "It was a bit of a wake-up call from reinsurers to understand how far their web of insurance was cast," Aon's Reardon says.
That was last year. Insurers, confronted with a new risk, tend to react first by reducing their coverage, then working to understand it well enough to put a price on it. But contingent business interruption is hard to price. "You're almost fighting a losing battle," says Ed Hochberg, who runs the analytics group at Towers Watson, a risk management consulting firm. There's not enough data to model behaviors in wide-flung supply chains, he explains, and catastrophe models have enough trouble modeling losses over an extended time period, much less in locations far from where the flood comes in. "It is a little surprising how little our clients know where their products come from," says Reardon.
"The flooding [in Thailand]," Swiss Re wrote in a study, (PDF) "has highlighted the insurance industry's need for a fuller understanding of its exposure to supply chain risk, via more detailed information from clients and aggregation risk management with appropriate limits and premiums." The translation: Insurers, learn what you can, and limit coverage wherever possible. Hochberg and Reardon confirm that this is exactly what has been happening in the market.
Business interruption was a "focal point" in this spring's contract renewals with reinsurers, says Hochberg. Reardon points out that insurers are discovering more single-source suppliers among their clients than they'd expected. Insurers have been attempting to include specific sub-limits for the exposure, and include only named suppliers–that is, not indiscriminately out through the supply chain, but to specific companies the insurer feels comfortable with. But these steps are difficult in a soft market, where insurers are competing with each other to please their corporate customers.
This may change with Sandy. Massive catastrophes, which insurers euphemistically call "industry loss events," can turn a market in an insurer's favor. (Though the industry waited in vain for a better market after last year's losses.) And both Reardon and Hochberg suggested several Sandy-related events that could trigger contingent business interruption losses. The hurricane flooded airports, which supply a service to airlines, who in turn supply a service to companies. It dug up rail lines or covered them in sand. It flooded power stations. Insurance contract renewal negotiations will follow this catastrophe, too, and and insurers will have discovered even more suppliers they'll now fear.
This fear sets up a conflict between businesses and insurers. It's cheaper for businesses to thin out their supply chains and keep as little inventory on hand as possible. But this passes on a cost that insurers are increasingly unwilling to pay. And as supply chains spread to save money–to places like the industrial areas around the Chao Phraya River in Thailand, site of last year's flooding–they make the risk even more complicated, and even less attractive to insurers.
If you run a business, you should get comfortable with risks and conditions all the way down your supply chain. You may find in the near future, if you haven't already, that your insurer is not willing to do it for you. "Insurers are definitely focusing a lot more attention on this," says Hochberg, "and Sandy's going to do nothing but increase that level of focus."
–Brendan Greeley
POSTS FROM THURSDAY, NOV. 1
Sandy Bottles Up the East Coast Gasoline Market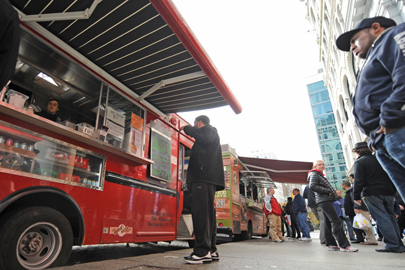 New York's Food Trucks to the Rescue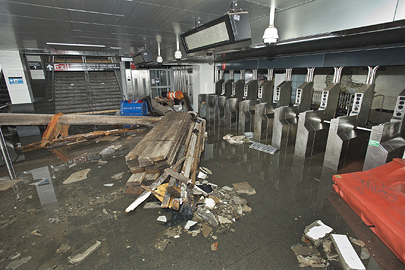 Who Will Pay for New York's Subway Repairs?
Sandy Thwarts Mark Zuckerberg's Plans To Fix New Jersey's Schools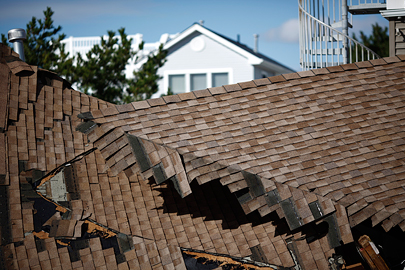 An Insurance Break for Homeowners
After Fighting Traffic, Workers Face the Dreaded Inbox
The SBA Preps for a Flood of Disaster Loans
How the Superstorm Stole Halloween
The Culture of Carpooling With Strangers
POSTS FROM WEDNESDAY, OCT. 31
The Airlines' Strong Sandy Report Card Left Room for Improvement
How Truth and Lies Spread on Twitter
Solar Panels No Savior in a Blackout
American Apparel CEO Dov Charney on his Controversial Ad
Why The Marathon Is the Last Thing New York Needs
One New Yorker's Seven-Hour Post-Sandy Commute
JPMorgan COO: "We're in the Sixth Inning"
From Red Hook to SoCal, Sprawl Puts People at Risk
Your Neighborhood Applebee's Is Doing Just Fine
With No Power, Tekserve Still Opens
A City Without Sushi? Say It Isn't So
The NBA Tipped Off Last Night. Bad Timing
Can You Do A Day's Worth of Work on a Cell Phone?
Subway Chaos and the Man Who Saw it Coming
Gyms Become Oases for New Yorkers Without Power
For Mitt Romney, Hurricane Sandy is History
Wringing the Most Out of Business Insurance
New Yorkers Grapple With 'Charge-pocalypse'
POSTS FROM TUESDAY, OCT. 30
For Many, Twitter Replaced Traditional News Sources During Storm
Sandy Puts Mobile Workers to the Test
In Sandy's Wake, an Aid Website Gets a Big Test
Evacuated Hospital Patients Find Beds Throughout City
Swarmed Supermarkets Wait for Resupply
Sandy Grounds Northeast Air Travel
Flashlights Still a Hot Commodity in Manhattan
An Anxious Wall Street Readies for Reopening
Brown, Warren Tussle Over Storm-Delayed Debate
SeeClickFix Helps Citizens Report Damage
Does Mitt Romney Want to Get Rid of FEMA?
Storm-Surge Damage May Not Be Covered by Some Insurance
Before it's here, it's on the Bloomberg Terminal.
LEARN MORE