Hurricane Sandy Doesn't Hamper This Brooklyn Hatter
By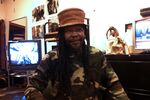 When New York City closed its public transportation system in anticipation of Hurricane Sandy, millions who could stay home from work on Oct. 29 did just that. As rain and wind picked up on a gritty stretch not far from the purposely rusty facade of the new Barclays Center in Brooklyn, the restaurant equipment resellers, auto body shops, tire flat fixers, and oil change/car wash joints, stood silent.
The only storefront open for business: a venerable neighborhood fixture called Malchijah Hats.
Why was the owner ignoring the elements to make hats? "I have a small one-bedroom; [this is] better than me just sitting around and going stir crazy," says Marcus Malchijah, a "mostly" self-taught milliner who has been fashioning hats for nearly 18 years and lives within walking distance of his shop.
Customers include actress Jada Pinkett Smith, Mary Wilson of The Supremes, Black Thought from The Roots, "the whole" Third World reggae group, and churchgoers from around the country. Prices start at around $40 and run to $500 or more per hat, "according to what it takes," Malchijah says. "As you can see, I have casual work, I have simple work, I have extraordinary work; I make outrageous hats," he says, demonstrating how to use a wooden hat block to form a piece of felt amid piles of pork pies.
The Guyanese-born milliner is prolific, churning out as many as two dozen hats a day with a part-time staff of four, five to six days a week, selling "maybe" three-quarters of them and donating some of the rest to churches. Malchijah also has no time for false modesty: "I'm a Brooklyn treasure, I guess," he says.
Regardless of what happens in Sandy's wake, Malchijah expects to be back in his shop today. "We Brooklyn folks are a very hearty bunch … and I'm a workaholic."