For Many, Twitter Replaced Traditional News Sources During Storm
By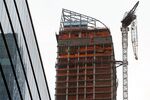 Like a lot of people, my primary source for information about Hurricane Sandy last night was Twitter. There I learned how high the water was rising during the storm surge, that a crane was dangling high above 57th Street and the façade of a building had fallen right off. I also quickly got wind of Governor Chris Christie's praise of President Obama's handling of the crisis. ConEd's warnings about power cut-offs showed up repeatedly right until—and after—the power was cut off.
I also briefly thought the trading floor of the New York Stock Exchange was under water. It wasn't. I also thought that there were workers trapped after a ConEd transformer exploded. They weren't. There were photo hoaxes out there, too.
But in each of those cases, and probably others, the news was quickly corrected by more informed sources on Twitter, including the companies themselves. And in the case of the stock exchange, the rumor was also reported by CNN and the Weather Channel.
Because I was relying on Twitter, I didn't have to put up with TV news reporting. No repeating of familiar details. No filling time before news conferences. No intrepid reporters on windy beaches or in flooded streets. No banter.
Instead, I got a rolling, constantly updated distillation of crucial information from a wide range of sources. And when I wanted more details or confirmation, I could follow the links in the tweets or go to news sites. According to the Pew Research Center's Project for Excellence in Journalism, that's a pretty common way for people to use Twitter for news. The center's State of the Media 2012 report found in its survey that 36 percent said most of the links they follow come from friends and family, 27 percent say most come from news organizations, and 18 percent mostly follow links from other organizations such as think tanks.
Twitter wasn't the only lifeline for people during the hurricane. According to CBS News, Facebook reported that the most popular words used on the site during the storm were: Sandy, hurricane, Hurricane Sandy, stay safe, be safe, and storm.