Brown, Warren Tussle Over Storm-Delayed Debate
by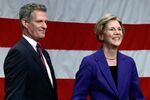 4:06 p.m., Oct. 30, 2012 — Could Hurricane Sandy tip the balance in the tight Massachusetts senate contest?
On the afternoon of Oct. 29, the Scott Brown campaign issued a statement stating that he would not participate in his fourth and final debate against Elizabeth Warren, his Democratic Senate opponent, which was scheduled for the following evening. The storm was bearing down on the East Coast at the time, and the severity and extent of damage would not be known for many hours. "It is simply not appropriate to go forward with a political debate when a disaster strikes," Brown spokesperson Colin Reed said in the statement.
Not to be outdone, the Warren campaign quickly followed up with a statement of its own: "With concern for public safety and cleanup paramount, Elizabeth believes the debate should not be held tomorrow." The debate had been scheduled for 7 p.m. on Tuesday evening at the WGBH studios in Boston and was sponsored by a group of Boston media outlets, including The Boston Globe, New England Cable News, and WBUR. CNN's John King was to moderate, and the event was expected to be the highest-profile event of the candidates' four face-offs.
Then—after everyone agreed that it was not the time for politics—things became political.
On Tuesday, as both candidates began visiting storm-damaged communities, the Warren camp announced that it still wanted to hold the debate and had "contacted the debate organizers and let them know that she would be available to participate on Thursday evening."
Brown, for his part, seems less than eager. "We've already had three debates," he told the Boston Globe in Westport, Mass. "There's only a few days left and we have a very, very busy schedule."
Senator Brown's reluctance to reschedule, if that's what it is, is easily understood in the context of the race. The most recent poll, conducted by The Boston Globe, shows the candidates virtually tied at 47 percent to 47 percent. Warren was largely considered the winner during the candidates' last debate, held on Oct. 10 in Springfield, Mass. "I think Elizabeth Warren sees that it's to her advantage to continue debating Scott Brown," says Tim Vercellotti, a political science professor at Western New England University. "The debate in Boston was going to give her much more exposure, so it certainly seems to her advantage."
"I don't know what they're going to do," Vercellotti added. "Neither of these individuals has official duties that demand they engage in disaster relief."
—Sheelah Kolhatkar
Before it's here, it's on the Bloomberg Terminal.
LEARN MORE