Artists Find Inspiration in Hurricane's Fury
By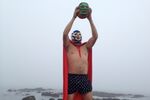 12 p.m., Oct. 30, 2012 — As most of the East Coast hid from Hurricane Sandy, Gil Corral and his wife went out onto Fortune's Rocks Beach in Biddeford Pool, Maine, to take this photo. Corral, an artist, has photographed the character, which he calls "El Chicharron" (or "pork rind"), in snowstorms and other severe weather. "It does definitely inspire creative thought, these events," he says. "I'm just trying to bring some relief. Everyone was freaking out."
He did the shoot Sunday evening, before the hurricane made landfall. "We're in Maine, so Sandy didn't really hit directly," he says, "but the seas were stormy, winds were high, lots of rain." Corral is using the photo to make refrigerator magnets, which he's already selling on Etsy.com for $5 each.
In Baltimore, artist Jamie Shelman has produced this Sandy-inspired ink drawing. "In this instance I found it funny that society in general always has the same response to the fears related to a weather event," she says in an email. "My drawing is a comical response to those societal responses. i.e. empty the shelves of toilet paper, white bread, and milk! And also lashing yourself to what you perceive as an immovable object, in this case a tree, is a comical and not good idea." Shelman says she'll make 40 prints of the drawing.
John Ballou, an artist in Rochester, N.Y., says, "Sometimes the best way to break through the horrific loss is with a little bit of humor after the waters have receded." He's made 20 rubber-stamp cards that read, "Frankenstorm Survivor."
Before it's here, it's on the Bloomberg Terminal.
LEARN MORE