An Anxious Wall Street Readies Its Reopening
by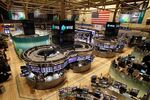 4:15 pm., Oct. 30, 2012 — Thanks to Hurricane Sandy, for the first time since 1888 weather has stopped U.S. stock trading for two straight days. With the exception of at least one brave, renegade Starbucks outlet, Sandy's 90-mile-per-hour winds and storm surge left swaths of New York feeling time-warped back to the Gilded Age. The markets have gone dark on the anniversary of the Crash of 1929's Black Tuesday.
Back then, of course, Twitter hadn't yet finished its beta testing. Last night, one wag used that buzzing forum to quip that lower-Manhattan habitués Citigroup and Goldman may have to be bailed out a bit more literally than last time.
What's to come: the weeks-long hassle of co-location, telecommuting, and rerouting to account for closed subway stations. But since "Wall Street" spans farther than it used to—from the bond desks of Newport Beach, Calif., to Connecticut hedge fund country, flooding a few Manhattan skyscrapers' lobbies isn't the fatal blow to the markets it might once have been. Domestic equity trading is now spread across 13 exchanges and dozens of private broker-run venues.
Even so, Sandy could jolt Greater Wall Street into an anxiety and volatility it hasn't felt for months. Complacency has dominated equity and debt markets for much of 2012. The Standard & Poor's 500-stock index is up 12 percent, having traversed September and October with nary a quiver. Fixed-income markets are getting their dregs scraped, with junk bonds looking drunk and desperate portfolio managers chasing yield in Puerto Rico. The world's been lulled into a prolonged sense of "risk-on." Next week's presidential election could truly go either way. Details of a possible resolution to the national fiscal cliff are anyone's guess.
So the idea that Wednesday's planned, weather-permitting reopening of New York's stock exchanges could succumb to tech glitches is an especially scary one. "Do you really want to open up the market and have these potential issues right before the election, right before month end?" Matt McCormick, who helps oversee $7.3 billion at Cincinnati-based Bahl & Gaynor, asked Bloomberg News. "I'd rather be slow and correct than fast and wrong and really wrong. It's better to be conservative."
A market that's 25 years removed from the technical meltdown of the Crash of '87 is still disturbingly vulnerable to trading disasters. Witness the August software error at Knight Capital Group that nearly bankrupted the market maker, or the embarrassing opening delays Nasdaq experienced in its May debut of Facebook shares.
Bats Global Markets had to scotch its initial public offering when it couldn't get its shares to trade on its own exchange. Then there's the still-unresolved mystery behind the Flash Crash of 2010.
"I'm a little surprised that the exchanges couldn't secure the technology needed to keep the market operating," says Dominic Salvino, a specialist on the CBOE floor for Group One Trading, the primary market maker for VIX options. "It seems unreasonable that the nation's financial markets have to shut down just because everyone has located themselves within five miles of each other in New Jersey. A snowstorm in Chicago wouldn't shut down trading on the East Coast."
Forgive the pun, but the NYSE lies in uncharted waters. The last comparable closure of the storied exchange was during the blizzard of March 12 and 13, 1888. Ninety years later, the exchange closed for a day and a half after a February 1978 snowstorm.
So all fingers are crossed for Wednesday. The good, albeit mercenary-sounding, news is that traditionally, hurricanes have not hindered market gains. According to Standard & Poor's, the S&P 500 gained an average of 3.9 percent during the three months following each of the 13 costliest U.S. hurricanes and added 5.8 percent over the subsequent six months. As Sam Stovall, S&P's New York-based chief equity strategist, wrote in a note: "Equities are more likely driven by wider-reaching global events than localized natural disasters."
For what it's worth, this gorgeous rainbow was just spotted over lower Manhattan.
—Roben Farzad
Before it's here, it's on the Bloomberg Terminal.
LEARN MORE