Which Chains Are Staying Open in Sandy's Face?
By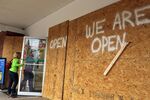 As Hurricane Sandy pummels the East Coast, many businesses aren't taking chances. Early Monday afternoon, the streets of New York became a rain-soaked ghost town. The New York Stock Exchange closed because of weather for the first time since a 1996 blizzard, reports Bloomberg News. While businesses from banks to Starbucks have suspended operation in the New York-area, others are braving the storm.
Verizon Wireless stores that closed for last year's Hurricane Irene, including some in Long Island, have remained open so consumers can buy emergency wireless equipment such as car chargers and batteries—not to mention "the latest 4G LTE smartphones, tablets and mobile broadband devices for laptops," as an Oct. 28 release about the storm describes the inventory. Verizon retail employees in the New York area received messages this morning from corporate offices reminding them to stay safe traveling to work, although some of Verizon's corporate offices in the storm's path closed this morning. Asked if it were unfair that retail employees had to go in, Andrea Kimmet, a spokesperson for Verizon Wireless, says the company has been closing stores as the storm progressed. Those not at the center of the storm, she says, "can still be open to sell accessories, backup chargers, and other things in times like this." She says, "We continue to monitor putting customer and employee safety first."
Speaking for Dunkin' Brands, which includes Dunkin' Donuts and Baskin-Robbins, Michelle King, director of global public relations, said in an e-mail: "Very few restaurants have closed. Any closures have been due largely to power outages or as a result of evacuations in affected areas. The majority of our restaurants are open and taking care of their customers." All openings are at the discretion of the franchisee, she adds. (A casual, on-the-ground survey of a small section of Manhattan's Chelsea neighborhood revealed just a few  businesses open as of 2:30 p.m., inluding two Dunkin' Donuts outlets.)
Dunkin' Donuts addict Brandon Opitz, a college student from Agawam, Mass., went with his girlfriend to get iced coffee at the chain around 2:30 p.m. "We need it daily to function! (Cliche, but so true!)," he wrote in an e-mail. "Downpours won't be enough to keep me away!"
Restless after being stuck at home all day, actor Edgar Ribon drove to his local Dunkin' Donuts in Union City, N.J. for a pumpkin-flavored coffee around 4 p.m. There he found a group of policemen and firemen with radios engaged, as well as a short line at the cashier. "I was bored from being inside," he says. "I am a coffee lover, not a freak."
Smartphones and doughnuts may be available, but high-end clothes will not: about 130 Macy's and Bloomingdale's stores were closed all day. H&M (HMB:SS) closed all stores in Manhattan, Rhode Island, and Delaware, plus most in Connecticut, New Jersey, Pennsylvania, and the Washington area. Pharmacy Walgreens, which also owns drugstore chain Duane Reade, closed about 243 stores from Washington to New York as of 3 p.m.
Before it's here, it's on the Bloomberg Terminal.
LEARN MORE