Toothpaste and Kleenex
by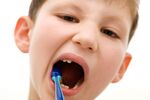 Annual savings of $365-$435 million pretax (and $275-$325 million after tax) are expected by the fourth year of the restructuring program, or by 2016. … As we noted in our October 16th 3Q Preview, the focus of the quarter is restructuring to lower costs in a slow growth environment.
—Colgate Palmolive Company, October 25, 2012.
The bigger news is that it is exiting the diaper businesses in Europe (excluding Italy), which generated sales of $500 million and negligible profit. … As we noted in our preview piece, we think the quarter's focus will be on steps companies take to right-size costs in a slow growth environment; we are pleased that KMB has made this deliberate choice.
—Kimberly-Clark Corporation, October 24, 2012.
Both, Connie M. Maneaty, BMO Capital Markets.
Call it the O'Neill & Corbat preview.
The Mainstream Business and Non-Business Media are guilty of focusing on about 13 companies. My 13 may be a different set than my colleague Matt Miller's 13, but it is certain that there is room for only 13: Apple, Google, Goldman Sachs, Apple, Facebook, JPMorgan, Amazon, Microsoft, FedEx, Citigroup, Apple, EBay, Goldman Sachs. … There is no room for boring CL and KMB.
However, Murphy Oil Soap and Depends, and their corporate officers, are way, way out front.
The "New Normal" is about economics. But much more, it is about what diminished economic output does to corporations and their investment and job plans, looking forward.
Forward, this autumn, is toward a marginally lesser view.
The banks stir but only stir. Citi's new tag team will adjust and adapt to their unique "slow growth environment."
They could, can and will steal the New Normal template from less romantic strategic planners.
Here's the reality. Focus.
There have been many movies about bankers and brokers. They do not make movies about toothpaste and Kleenex. Discuss.
Before it's here, it's on the Bloomberg Terminal.
LEARN MORE