How Romney and Obama Are Handling Hurricane Sandy
By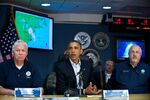 Shortly after 10:30 a.m. on Monday, Air Force One touched down at Andrews Air Force Base, amid a steady rain and gray clouds. The landing was a bit rocky. By 10:40, President Obama had boarded his motorcade and was en route to the White House.
The first thing the president was to do when he got there was to lead a teleconference in the Situation Room with Homeland Security Secretary Janet Napolitano, FEMA Administrator Craig Fugate, Transportation Secretary Ray LaHood, Energy Secretary Steven Chu, and National Hurricane Center Director Richard Knabb. President Obama had planned to campaign in Florida with former President Bill Clinton on Monday. On Tuesday, the two were going to head to Green Bay, Wis. A decision was made Monday morning to cancel both events. Both the Romney and Obama campaigns are pulling all fundraising e-mails to the East Coast as well.
While the president is handling the storm, Mitt Romney will continue to campaign. Andrea Saul, Romney's press secretary, said in a news release Monday morning that the campaign had canceled scheduled events in New Hampshire and Virginia. Romney will attend rallies in Ohio, Iowa, and Wisconsin, including an event with wrestling champion Dan Gable. "Gov. Romney has also been in touch with Governors Bob McDonnell and Chris Christie about storm preparations, and we will continuously monitor the situation," Saul wrote.
The Romney campaign bus will be delivering storm-relief supplies. His campaign offices in Virginia, Pennsylvania, and North Carolina will also be collecting supplies. Romney has been encouraging supporters to send money to the Red Cross on Facebook, Twitter, and his campaign website.
UPDATE: Romney said he'd handle the disaster differently from Obama. A Romney campaign spokeswoman, Amanda Henneberg, said in an email to Bloomberg Businessweek: "Gov. Romney believes that states should be in charge of emergency management in responding to storms and other natural disasters in their jurisdictions.  As the first responders, states are in the best position to aid affected individuals and communities, and to direct resources and assistance to where they are needed most. This includes help from the federal government and FEMA."
In a CNN debate during the Republican primary, Romney said disaster relief responsibilities should be shifted to the states. He also advocated privatizing disaster relief. "If you can go even further, and send it back to the private sector, that's even better," Romney added.
Before it's here, it's on the Bloomberg Terminal.
LEARN MORE