As Branches Close, Banks Cut Fees, Offer Online Help During Sandy
By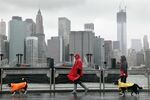 As Hurricane Sandy barreled toward the East Coast this weekend, people loaded up on supplies—Jerry Seinfeld was spotted at Manhattan's Zabar's stocking up on lox—and scrambled to get money out of ATMs. As Wells Fargo reminded customers, cash could be handy—particularly if the electricity goes out and credit-card machines are disabled. So many consumers have withdrawn cash that people are reporting on Twitter that some ATMs have run dry.
Many banks have closed branches, but not having access to a physical location is less of a disruption than it used to be. Most large banks have mobile apps that allow customers to transfer money, check balances, and deposit checks, and some banks took to Twitter on Monday to remind customers that ATMS will remain open for deposits and withdrawals.
Chase said it is waiving late fees on a range of loans, including credit cards and business and consumer loans such as mortgages, home equity, auto, and student loans, for customers in eight states impacted by the hurricane. The bank has also said it will waive fees that occur when people don't properly manage their account balances, such as overdrafts and insufficient fund fees. Citibank said customers should get in touch if they need fees waived.
Not all banks have been clear about their storm contingency plans and policies via social media: As of Monday morning, Bank of America's most recent tweets were about a banking industry conference and a study of charitable donations by baby boomers, and the website homepage didn't mention Sandy. Spokesman Mark Pipitone later said that the homepage should have contained a Sandy message since Sunday evening and wasn't sure why it wasn't showing up on some computers. In any case, he added that the bank is waiving fees on a case-by-case basis.