Vegepreneurs Set Their Sights Beyond Food
By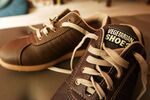 Vegetarians represent a small minority of the U.S. population, but their numbers have been increasing steadily, from about 1 percent in 1994 to 4 percent this year, according to a survey commissioned by the Vegetarian Resource Group, a Baltimore nonprofit. Restaurateurs have long capitalized on their demand, and chains such as Native Foods Café and Veggie Grill are thriving in cities like Boulder, Colo., Chicago, and Seattle. Meat and dairy-substitute brands including Morningstar Farms and Silk have cleaned up, too: U.S. consumers spent about $2.6 billion on soy foods and beverages in 2011, according to market researcher Mintel.
While restaurants and food products account for the bulk of businesses run by vegepreneurs, a growing number are starting other types of businesses that cater to the animal rights and environmental concerns of their peers, from fashion design to furniture manufacturing. (Most, perhaps not surprisingly, are in New York City.) Promoting a vegan product, rather than a love for shoes, sparked sisters Sara and Erica Kubersky to start MooShoes, the country's first vegan shoe shop, in New York in 2001. "We were never big shoe people," says Erica. "I mean, we like shoes as much as the next girl, but it was more of a vegan push for us."
Competition from fellow vegepreneurs encourages the Kuberskys, who employ five and project $1.2 million in revenue this year. "We had the idea, but there were no manufacturers in the U.S.," Erica recalls. "So we found vegetarian shoes in England." Today, MooShoes has more than a dozen U.S. competitors and about 30 outside the country. Many shoe brands, including Dansko and Dr. Martens, now make vegan shoes using products such as hemp and canvas. Sharon Lu, 31, vice president and co-founder of EcoVegan, a San Francisco-based meat-substitute business, does not regard other faux-meat companies as competitors. "Our real competitors are in the meat industry."
Tony Ellison says his vegetarianism prompted him to sell environmentally friendly products on his 65-employee e-tailer, Shoplet.com, based in New York: "What does it really cost me to offer an equivalent green item that is similar or better in quality and price but has a positive impact on the environment?"
Environmentalism and animal rights concerns animate many vegepreneurs, who become lifestyle evangelists and adopt a spirit of cooperation unusual for small business owners. Daniel Husserl is a co-founder of Aellon, a $500,000 Brooklyn furniture business launched in 2011 that doesn't use leather or dyes and shellacs made from insects. "We wanted to be able to create a product that had unique design [and] stayed away from using any animal products," he says.
When forming a joint venture with an Indonesian manufacturer in 2011, Husserl says Aellon initially wanted to pay its 25 local employees double the standard local wage. But after a village leader said the disparity would create jealousy, Aellon put the extra money into a micro-finance fund that will help the employees get low-interest loans. "We found an opportunity to be creative, from an ethical and environmental standpoint," Husserl says.
That kind of commitment can help motivate customers to seek out and pay more for vegepreneurs' products. But it's not enough to appeal just to true believers, says Leanne Mai-ly Hilgart, the 30-year-old founder of Vaute Couture, a vegan coat company, also in Brooklyn. "We do have something to offer to people [who aren't motivated by] the ethics behind it. I believe that's an incentive for some, but you also have to blow someone away with functionality and design."
Before it's here, it's on the Bloomberg Terminal.
LEARN MORE