In China, a 'Golden Rice Bowl' for Civil Service
By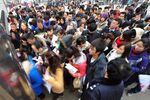 Paper-pushing for low pay? That's not how most Chinese view employment in the country's civil service, touted as the "golden rice bowl" for the lifetime of cushy benefits it provides. By the evening of Oct. 24, the closing of the application period, some 1.6 million people were expected to have registered to take the upcoming November civil service test, setting a new record.
The applicants are hoping to fill one of just 20,800 or so jobs for next year, almost 3,000 more than offered this year, meaning only a little over 1 percent will nab a much-coveted position as a civil servant. "Government jobs are the best. They provide money and stability," says Liu Kaiming, a labor expert in Shenzhen.
Many of the candidates are aiming for employment in the customs and taxation bureaus, which make up the largest number of jobs in China's 7 million-strong civil service. Test applicants are required to list their top choice for employment, usually followed by two backup selections.
Other government agencies offering positions include China's food and drug safety administration, the central commission for discipline inspection, China's corruption-fighting body, and the meteorological agency. All told, 140 state and local agencies are looking to fill positions. A slowing economy that has made it harder for 6 million recent college graduates to get jobs is also driving interest.
The most competitive position of all: a job with the Chongqing branch of the national statistics bureau, with more than 9,400 applying for one slot. That's in part because the post, as reported by Xinhua News Agency on Oct. 24, requires only a college degree, according to Li Yongxin, president of Zhonggong Education, a test training company.
Less popular are jobs with such departments as China's Office of State Flood Control and Drought Relief. That position requires regular travel to disaster sites and is "bitter and better suited to a man," said one agency advertisement, according to Xinhua.
Although the jobs don't usually pay as much as the private sector, they provide other attractive benefits. Competition to get a hukou—or household registration permit—that allows one to live and work in China's top cities, is driving demand for civil service jobs. Government agencies provide the key documentation that allows their workers full urban residency, including generous social welfare benefits, access to subsidized medical care, and the right to buy an apartment.
Another key lure: These jobs are usually lifetime sinecures, with employees dismissed only for gross negligence. Also appealing is a generous pension program. Civil servant pensions typically amount to as much as 90 percent of a retiring worker's salary and don't require employees to contribute any funds. By contrast, those who don't work for the government get pensions that average 42 percent of salaries and have to contribute 8 percent of every paycheck.
"Turnover is high in the China labor market and there aren't a lot of benefits," says Wang Kan, a professor at the China Institute of Industrial Relations in Beijing. "But for civil servants there is stability and lots of benefits—the government takes care of their employees."
Also perhaps appealing are opportunities for graft. On Oct. 24, China's Ministry of Supervision announced that more than 15,000 civil servants have been investigated for corruption, involving $3.6 billion, over the past five years. "While self-discipline is important, the state should work more on building a system that makes it impossible for officials to monetize the power entrusted to them," wrote columnist Wan Lixin in the Shanghai Daily on Oct. 26. "If you have power, you can get money," says labor expert Liu.
Despite the attractions, aboveboard or illegitimate, 146 civil servant positions had no applicants, reported Xinhua. Those hardest to fill are usually positions in lower levels of government, often in China's more remote regions, which are less attractive to young Chinese.
"China also encourages more college graduates to work at government posts at or below county level," said China's Ministry of Human Resources and Social Security spokesman Yin Chengji on Oct. 24 at a Beijing press conference. To help fill those spots, around 12 percent of total positions will be reserved for college graduates willing to take posts as village officials, he added.