A Bank CEO Thrives Far From Wall Street
by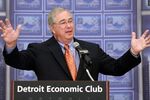 Can a big bank still be home to a successful, long-serving, largely noncontroversial chief executive officer? An UnBlankfein? Or AntiPandit?
It can, and it is. His name is Jim Rohr, and he has been CEO of Pittsburgh-based bank PNC Financial Services Group since May of 2000. According to analyst Mike Mayo of CLSA, Rohr, 63, sports the longest tenure and best-performing stock among a roster of 17 financial institutions that includes Goldman Sachs Group, Bank of America, JPMorgan Chase, Morgan Stanley, and Wells Fargo.
The grandfather has been with PNC (and his wife) for 40 years and looks more out of central casting for brake-pad salesman than a systemically important Wall Street CEO.
PNC stock has pulled back a bit since the company posted a third-quarter profit on Oct. 16 that fell short of Wall Street estimates. Even so, since Rohr's appointment as CEO and Oct. 15, shares of PNC—now the nation's seventh-largest bank by deposits—gained 39 percent, compared with a decline of 3 percent in the Standard & Poor's 500 index. Bank of America's Brian Moynihan and Morgan Stanley's James Gorman started in 2010; their shares have since fallen by 40 percent. JPMorgan stock is up 7 percent since Jamie Dimon took over at the end of 2005. Goldman Sachs's Blankfein started in 2006; his stock is down 19 percent. Vikram Pandit of Citigroup oversaw a share-price decline of almost 90 percent from 2007 to 2012. The closest anyone has come to Rohr's return is BB&T's Kelly King, who was named CEO on January 1, 2009. The stock is up 21 percent since then.
What's your secret, Jim?
"The banking industry has experienced sweeping changes over the last dozen years," Rohr offered in an e-mail to Bloomberg Businessweek. "But the leaders of successful institutions know the important things do not change. You focus on earning the confidence of customers and building long-term value for your shareholders. You manage risk and motivate your employees. You remember that you succeed when your community succeeds. Keep all of that in mind, and you position your bank for success over the long run."
Understood: self-effacement; focus on the long run; motivate employees.
Still ….
"Jim Rohr's hardly a household name," says Dave Bugajski of equity research firm Discern. "But he's been conservative and opportunistic enough to make the bank a winner—I'd argue maybe the biggest winner of the financial crisis."
Bugajski notes that four years ago, PNC became the first bank to make an acquisition concurrent with its receipt of funds from the government's Troubled Asset Relief Program. PNC used the occasion to snap up National City, a struggling regional bank, for about $6 billion while PNC accepted $7.6 billion of aid from Washington (which it repaid in 2010). The regional banks that survived, he said, have since been hitting themselves for not vying for National City, a buyout that significantly increased PNC's footprint across Pennsylvania, Ohio, Kentucky, Maryland, and Indiana. Rohr, says Bugajski, was "well-known and trusted enough by regulators to get that sweetheart deal."
Last year PNC bought its way into Florida by snapping up the Tampa-area branches of BankAtlantic and into the Atlanta market by acquiring 30 branches from Flagstar Bank. It also shelled out $3.5 billion to buy RBC Bank USA from Royal Bank of Canada, further entrenching the Pittsburgh institution, which was founded in the Civil War era, in the Southeast. (Today's PNC is the product of the 1913 marriage of First National Bank of Pittsburgh with the city's Second National Bank, all en route to a big 1983 merger with the Quaker-founded Provident National of Philadelphia.)
Discern's Bugajski credits PNC's CEO for balancing smart acquisitions and divestitures with special care not to dilute his shareholders, which most banks had to do in the wake of the financial crisis. Demonstrating that efficiency, he says, is the fact that from 2007 to 2012, PNC has increased its earning assets per share by 67 percent, compared with a 48 percent gain at JPMorgan and a 50 percent decline at Bank of America. PNC also increased revenue per share by 67 percent, vs. a 21 percent gain for JPMorgan and a 50 percent decline for Bank of America.
PNC also owns just over one-fifth of BlackRock, the world's largest asset manager and one of the few Wall Street success stories to emerge from the financial crisis.
One investor, who was not authorized to comment on the record per his firm's policy, says Rohr is smart for keeping a low profile. Unlike Pandit, Blankfein, and Dimon, respectively, the source says, Rohr still has a job, and no one is calling his bank a vampire squid or claiming that he lied to Congress.
Ultimately, this source gives props to Rohr, a wicked good golfer, for scoring a hole-in-one at Pebble Beach.
Isn't that what being a bank CEO was supposed to be all about?
Before it's here, it's on the Bloomberg Terminal.
LEARN MORE