What Washington Could Learn From Steve Wynn
By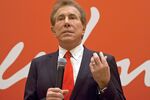 Steve Wynn has been very generous to the Republican Party this year. Yet unlike his pick for president—Mitt Romney, who has spent much of the presidential campaign bashing China—Wynn thinks the U.S. might learn something about capitalism from the communists.
During an earnings call on Oct. 24, the chief executive of Wynn Resorts fielded a question about how customers in the U.S. and China were behaving. (The company is based in Las Vegas but gets most of its revenue from casinos in Macau.) Wynn recounted how on a recent trip to China he met with a "very influential, well-informed, and high-placed source of political insight" who suggested Beijing might relinquish its grip on some of China's state-owned enterprises.
"And so," Wynn said, "there was going to be a liberalization of central government control in the hopes that that would, by decentralization, allow the country to be more agile and flexible in response to its growing needs of consumerism and industrialization. That overwhelming central control at this point was, as it is in America, a detriment to rapid expansion and job creation."
Washington, the casino mogul said, should watch closely: "If it's true, I'm hoping that the government in Washington, D.C., will take note of it. If the People's Republic of China think that job creation and small business expansion is best served by decentralization, then that's what the business community of the United States has been telling Washington, D.C., in ever-louder voices, for the past 12 or 15 months. It'll be interesting if we finally—if they finally get the clue from China, rather than us in their own country."
Some might say "overwhelming central control" means something a bit different in the U.S. than in China. No matter. On the same call, Wynn's business reported net income of $112 million for the quarter. He appears to be dealing with the interference well enough.
Before it's here, it's on the Bloomberg Terminal.
LEARN MORE