We're All Moving to Canada
by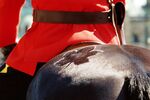 Randolph McTavish, Deputy Commissioner of the Royal Canadian Mounted Police, also warned Americans against trying to slip across the border in the hopes of passing as Canadians: "It is very difficult, if not impossible, to pretend to like hockey." Mr. McTavish said that he was sympathetic with those who might flee across the border in search of a new life and socialized medicine, but added, "At the end of the day, forty-seven per cent of Americans is more than Canada can handle."
—Andy Borowitz, "Canada Tightens Border," The Borowitz Report, The New Yorker, October 9, 2012.
Which 47 percent will it be?
You would think this was the first close election in our nation's history. You would think we have never been this polarized. You would think Canada would greet us with open arms. (Right.)
You would think those remaining in these 50 states would be at the Rainbow Bridge to weep and wave goodbye, forever. (Here's the door; what's your hurry.)
What is charming is Team Obama and Team Romney have already packed their bags.
The evening of Tuesday, November 6 will be interesting. Wednesday, November 7 will be ever more interesting.
Our problems are intractable. Yet, the American Experiment is durable. Near all will stay and face our collective and shared burden. Or, we could surprise Mountie McTavish and show up and scream, "We're all moving to Canada." Discuss.
Before it's here, it's on the Bloomberg Terminal.
LEARN MORE