'There Is a Place for Our Government to Assist Anyone Who Truly Needs It'
Jared Keller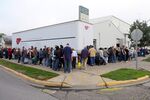 As part of our special Election Issue, we're asking Bloomberg Businessweek readers to tell us: Are we better off than we were four years ago?
Submit your story on Facebook or through our Tumblr, or leave your response in the comments section. We'll feature our favorites in future posts on this blog.
Last week we posted positive and negative assessments of the state of the nation. Today, readers discuss how their lives have improved in the past four years.
Tom McCool, marketer:
"Yes, I am better off than I was four years ago. I work for a state-supported community college. Although last year there were no payroll raises, I have had small raises in other years. My wife recently went from part time to full time at her employer. We do now have both of our daughters attending college, and that has put a pinch on our family income, but that has nothing to do with the state of economy. In my community, things are better. When the crisis happened in 2008, the holding lots at Subaru and Wabash National were empty. Now they are full. Caterpillar has rebounded. Alcoa is actually expanding its physical plant, which hasn't happened since the 1960s. A Nanshan aluminum plant is set to open. I see new houses being built. Retail isn't strong, but it has always been highly competitive in this area. So I think I am better off personally, and my community is also better off."
Gert Sofman, enterpreneur:
"We are definitely better off now than four years ago, although not everyone has rebounded. Those with money and assets have been able to withstand the onslaught better than those living hand to mouth. I've had some financial difficulties, came close to losing my house, and lost my job in March 2011. I used my 401(k) to purchase a retail shop in the Borough of Highlands, N.J. Paid a crazy amount of taxes since I invested in my own business rather than Wall Street. The seller made the transaction possible by holding the mortgage, as commercial mortgages were as scarce as hen's teeth. In the last three years, there have been four new businesses that have opened in Highlands.
"The U.S.A. is as safe as possible in this world today, since there is no guarantee of safety anywhere. After surviving the attacks on 9/11, watching the horror of people jumping to their deaths, and having a small taste of what it's like to be a refugee, I'm keenly aware that the U.S.A. needs to protect itself. But America should be very wise and targeted in its use of force. Thank you President Obama and Seal Team 6 for demonstrating to the world that the U.S.A. has the military power and intellect to dispatch the threat. Lastly, yes, I do believe that America is respected in the foreign community, and a lot of the credit has to be given to President Obama. God Bless the World … not just the U.S.A."
Andrew Driscoll, student and veteran:
"Yes, I am better off, as are many of my fellow veterans. When I exited the Army in 2007, I could not get a job, let alone a decent interview. I worked hard for three years after being laid off twice and was able to go back to school with the post-9/11 GI Bill, similar to the bill that the Republicans just shot down, to get more funding for military veterans to get more education. The last four years have been tough, but it has gotten a lot better, and now I am able to interview with companies like Nike, J&J, and Goldman Sachs."
Mary Dickinson, litigator:
"I have been employed for 17 years in the law department of a investor-owned utility. There are threats of layoffs, but I have been spared so far. I got serious about my financial future when Mr. Obama was elected. I consulted with a planner and took her advice. I tightened my budget. I sold my expensive car and purchased a fuel-efficient model. I forced myself to put away and pay down my one and only credit card. I raised my 401(k) contribution by 6 percent, and I watch my spending. I plan my outings in advance. My summer vacation was a ticket to a concert in my town rather than a week in the country.
"Unemployment is down in my area, and Amazon just opened a large distribution center. The planned mall that was put on hold in 2009 is set to open in the spring. I am fortunate that my children are grown and educated and have good positions. I have given up a lot of disposal treats, but I feel 100 percent better because my retirement is closer, and I believe I will be OK … not Romney rich, but OK. My house is not paid for, but I am well on the upside, and its value is coming back.
"I am a Democrat and I will vote for the president. On the whole, I agree with his programs. But I realized it was my responsibility to get my own house in order and not expect the government to help me. Nevertheless, there is a place for our government to assist anyone who truly needs assistance … with food, shelter, and health care. I do not believe Mr. Romney understands this."
Sheila MacArthur, law student:
"Yes, I am better off. A lot better off. Because of the changes to student loan repayment in the stimulus package, I was able to leave my lousy paying job for law school. I graduate in January. The stimulus package has stimulated my personal economy, so I can at least double, probably triple, my income."
Are we better off? Submit your story on Facebook or through our Tumblr, or leave your response in the comments section. We'll feature our favorites in future posts on this blog.
Before it's here, it's on the Bloomberg Terminal.
LEARN MORE