The Former White House Aide Who Founded Fab.com
Alexandra Wolfe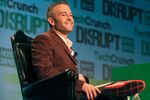 Many former White House aides have gone on to work in the private sector, but few have distanced themselves as far from wonky world politics as Jason Goldberg, a onetime Clinton staffer who founded Fab.com, the design sale site that started out as Fabulis, a gay social networking platform.
After Goldberg, now 40, graduated from Emory University in 1993, he went to work for the White House, first in the Cabinet Affairs office, then for Erskine Bowles, who was chief of staff at the time. By 1998, though, Goldberg had left politics and enrolled in Stanford Business School. After graduating in 2001, Goldberg bounced around a string of high-profile digital gigs—first in AOL Time Warner's strategy group and then at T-Mobile, where he founded their hotspot service. In 2003, he founded Jobster, a social networking company. After selling it, he launched another, Social Median, which he sold 11 months later to Xing, a business network site located in Hamburg.
While working for Xing he came up with his next big idea: Fabulis, a social network for the gay community. He reached out to his friend Bradford Shelhammer, a design blogger, to help him get it started. "I said I'm geeky enough to do it, but I'm not gay enough," remembers Goldberg. But the site never attracted enough users. So they refined the concept based on their mutual passion for design. They would create an online marketplace for affordable, everyday design with products from Alessi, the MoMA Design store, and OGGI.
"It was the mother of all pivots," says Goldberg, especially since they had already raised $1.5 million in financing by December 2010. A month later, they went to their investors, including First Round Capital and the Washington Post, with their new design idea and gave them the option to withdraw their investments. None did, and the day Fab.com was launched they sold $65,000 in products. A year later, they now have 8 million members and are on track to take in $150 million in revenue.
"Fab is more of a movement than a commerce company," says Goldberg. "We want to be the one website synonymous with design."