Navigating Apple's New Productscape
By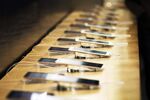 Apple's product announcements on Tuesday were fast and furious: a new iPad Mini, a new MacBook Pro, a new iMac, a refreshed iPad.
If you're in the market for some new tech from Apple, it can be a little bewildering. Fortunately, I get paid to think about this kind of stuff and I can be very opinionated. Here's my take on the best products coming straight out of Cupertino right now:
I Don't Buy Convergence. I think a tablet can be a great tablet, and a laptop can be a great laptop. I don't want one device to do both, because I don't think one device can (see the middling reviews of Microsoft's Surface for more on this, particularly Josh Topolsky's video review at The Verge). I want a great slab of glass I can hold in my hand for tablet-like activities, and I want an actual computer when I need to do work. Which is why …
The iPad Mini Is the iPad I Want. Notice that I said "hold in my hand," not "hands." This has long been my issue with the standard iPad—it's just a skosh too big and heavy to truly be comfortable (or maybe I just have Avian Bone Syndrome). The Mini, on the other hand? I think that might have legs. It's not like people haven't gotten comfortable with a small display they can hold in one hand (… cough … Kindle … cough …), and the Mini will be that much easier to throw in a bag than its larger sibling. I currently have a standard iPad, but were I starting over and could choose between the two, I'd get the $429 iPad Mini with 32GB of storage and Wi-Fi only (if I need an Internet connection, I'll use my iPhone's Personal Hotspot feature).
So (Too?) Many Laptops to Choose From. An iPad is nice, but again, it can't (and shouldn't) do everything. When it's time to, as Big Daddy Kane so aptly put it, get the job done, I'm reaching for my laptop.
But which one? Apple's laptop lineup is either robust or confusing, depending on your point of view. I tend toward the latter, but suspect all this will be rectified when the non-Retina MacBook Pros are quietly removed from the lineup once the newer Retinized MacBooks come down in price.
Apple makes a 15-inch laptop, but I actually like to move my computer around a bit, and the 15-incher is too bulky. For everyday computing, a 13-inch laptop is just right. Thing is, there are now three 13-inch MacBooks, so which one should you get?
I haven't used an optical drive in years, so I have no problem losing one if it means I can have a thinner, lighter machine. That's a vote against the older MacBook Pro, but that still leaves me with the MacBook Air and the MacBook Pro Retina. The Retina model looks like one hell of a machine, but it's also pricey: $1,999 for the model with 256GB of storage. There's a cheaper model with 128GB, but I think more storage is important: I'm no data hoarder, but 128GB can fill up quickly.
The Air can be had with 256GB (and 8GB of RAM) for $1,599. As much as I'd like to spring for the extra $400 to get the MacBook Pro Retina, I just can't see myself doing it. For everyday computing, that Air will do the job just fine.
A Special Note for Travelers. If you're often on the road, think about also getting that 11-inch MacBook Air for $999 (I wouldn't suggest it as your only computer, but it's a great second machine). It's a little small for everyday use, but on a plane it's a dream (particularly if you're in coach and have Charlie Recline in the row ahead of you). I have one and, when I'm at home, I treat it like an iPad. On the road, it's the best computer you can have in your carry-on.
Before it's here, it's on the Bloomberg Terminal.
LEARN MORE