Mercedes Needs to Rethink its China Market
The German carmaker needs the right SUV in China
Shaun Rein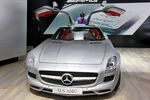 Mercedes-Benz (DAI:GR) in early October announced that Nicholas Speeks, who now runs its Japanese operations, will become head of Mercedes's China business. Speeks steps into a challenging role, for the company has become a laggard in the world's largest auto market. In order to avoid underperforming in a market that will see more than 30 percent growth next year, Mercedes needs a strategic rethink.
Once one of the better-performing foreign auto brands in China, Mercedes has seen sales there sputter in 2012. Through the first eight months of the year, the company's China sales grew only 6.2 percent, to 127,700 vehicles, compared with BMW's (BMW:GR) 30 percent growth, to 192,800 vehicles. The numbers do not indicate the full extent of Mercedes's struggles because many dealers have been discounting from 10 percent to 20 percent across all models. BMW has been discounting, too, but more in the 5 percent to 10 percent range.
Most of the company's problems are self-inflicted. (The Mercedes China office declined to comment for this article.) The German automaker failed to release new models at the right price points and lacks a cohesive brand positioning to account for shifts in Chinese consumer buying behavior. Mercedes's first mistake was not keeping up with demand for sportier cars that ultra-wealthy Chinese can drive, rather than rely on chauffeurs. The company's flagship S-Series—which sells for as much as $400,000 in China because of high import tariffs—has lost its cachet and is seen by many Chinese as a car for older people. That's a problem in a country whose average millionaire is in his or her early forties, more than a decade younger than in Western markets.
"Mercedes is good if you want a driver," a Chinese billionaire told me, "but I prefer driving myself now because it is fun." Recently, the billionaire has bought a Ferrari (FI:IM), a Porsche (PAH3:GR), and a BMW and is thinking about a Bentley. He won't consider a Mercedes, which he sees as old and cheap. Luxury buyers like him see too many Mercedes A- and B-class models and brick-like Viano minivans on the roads. These sell for a tenth of the S600 and cheapen the brand image. (Disclosure: My firm, the China Market Research Group, does not work for any of these carmakers.)
In the past, Mercedes executives didn't have to worry about reaching buyers such as this tycoon. Even just five years ago, a large percentage of luxury cars went to companies, which bought them to shuttle clients and executives around. But as individual wealth creation has soared since 2007, many new purchases are by executives themselves. Young, wealthy Chinese want sportier rides. Driving a powerful car is the new sign of status, not sitting in the back seat of one. Buyers of the S-Class five years ago are now choosing to buy cars such as Porsche Panamera, Bentley (VOW:GR), and Maserati, which only entered the market over the last few years. Sales in China for Maserati doubled last year and China is now its second largest market. Porsche saw its sales grow 38 percent in the first half of 2012 and expects China to replace the U.S. as its largest market in 2013.
There remain wealthy Chinese who want to be driven. However, they are going up-market and buying Rolls-Royce (RR/:LN), rather than Mercedes. Rolls-Royce is poised to enjoy record sales in 2012, due in large part to demand from China, where its $1.2 million Year of the Dragon Phantom sold out.
Mercedes also missed the trend that has wealthy Chinese preferring high-end SUVs over sedans and it failed to release an SUV that is competitive against the Porsche Cayenne and BMW X5. In interviews with wealthy Chinese, my firm found that the majority preferred SUVs over sedans because they like the muscular feel they get when driving them and because they favor a perch above the multi-lane traffic jams that plague most Chinese cities. Wealthy Chinese told us their most-wanted auto purchases appear in the Range Rover line, or are the BMW X5 or Porsche Cayenne. The cheapest BMW X5 sells in China for about $150,000; like most SUVs, it has fatter margins than sedans.
Demand is so strong for high-end SUVs that the Porsche Cayenne has a six-month waiting list and is barely discounted, if at all. Mercedes rolled out the GLK SUV at the 2008 Beijing auto show, but wealthy Chinese considered it low-end at a mere $50,000. The M-Class, an older luxury SUV, is boxy and plain and lacks the handling ability of its rivals. Mercedes needs to roll-out a high-end, more muscular SUV.
Finally, Mercedes's dealer network suffers from the worst satisfaction scores achieved against BMW, Audi (NSU:GR), Maserati, and Porsche, based on customer satisfaction surveys and mystery shopping that we completed. Common complaints have been that Mercedes salesmen were "unhelpful", "unknowledgable," and "unprepared" to deal with customer questions.
Mercedes can certainly rebound in China. It still has strong brand resonance and in the next quarter will likely benefit from Chinese boycotts of such Japanese brands as Lexus and Infiniti (7201:JP). If Mercedes can release new models at different price points—yet maintain a cohesive brand positioning—it has a chance to return to the top ranks of luxury automakers in the world's biggest auto market.
Before it's here, it's on the Bloomberg Terminal.
LEARN MORE