Julie Corbett: Bottles Inspired by the iPhone
Bottles inspired by the iPhone
by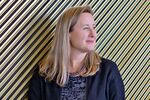 The iPhone prompted many people to dream big when it made its debut in 2007. Julie Corbett's spark came from the paper pulp tray it arrived in. Not only was the material sturdy and biodegradable, the shape was elegant and the feel was natural. "I fell in love with it," she says. Despite not having a design background, she started to toy with the idea of a molded pulp shell that could snap around a plastic pouch to hold liquid. She found the parts added up to an unusual bottle that looked natural and used much less plastic than conventional bottles. When it was empty, consumers could break the pieces apart to separate the plastic and pulp for recycling. In 2008 the Canadian native quit her investment management job to form Oakland (Calif.)-based Ecologic Brands and work on a prototype.
Ecologic has made more than 2 million of Corbett's eco.bottles for brands including Seventh Generation laundry detergent, and she says she expects the company to be able to initially produce about 9 million a year when it opens a new plant near San Francisco in 2013.
Earlier this year, Ecologic won a Gold Award from the Industrial Designers Society of America. In their citation the judges noted that the bottle's "iconic paper aesthetic communicates its environmental attributes and is very comfortable to touch and use." Other companies also are developing greener containers, but no one else has a recycled-paper bottle on store shelves. Corbett's design didn't require any unusual materials or new technologies. Part of the concept came from plastic milk bags widely sold in Canada, a product she'd long wondered why Americans don't use. "It's not a premium solution," she says, "but it's the least expensive and the most efficient."
Her bottles combine a milk bag with a shell made from the molded pulp packaging. Ecologic has patents on the process of connecting the two components, as well as on other products in the pipeline. "You have to believe a lot of innovation is about breathing life into traditional businesses," says Corbett. That doesn't mean everyone in the battered pulp and paper industry was immediately excited about her idea. "This is a pretty tired and commoditized business," she says. "Sometimes it's hard to be optimistic when all you see is negativity."
So far consumers are gravitating to the eco-friendly bottle. Seventh Generation said it saw a 19 percent sales increase after switching. The container parts are delivered in compact unassembled stacks, reducing space on trucks and saving shipping costs. "The packaging just leaps out," says Shazad Bukhari, chief operating officer of the Winning Combination in Winnipeg, who has repackaged his Bodylogix line of dietary supplements in containers made by Ecologic. The line will sell through Walgreens and Shoppers Drug Mart in the coming months. "You don't really have to say anything," says Bukhari. "The minute you look at it, you get it. This is a bottle that's good for the planet."
Before it's here, it's on the Bloomberg Terminal.
LEARN MORE