Energy Future's Profitable Road to Oblivion
Private equity firms net $528 million in fees from a troubled utility
By and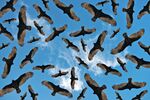 Five years ago, buyout funds Kohlberg Kravis Roberts, TPG Capital, and Goldman Sachs Capital Partners took a Dallas-based utility called TXU private in a $43.2 billion transaction, the largest leveraged buyout in history. While the company's troubles have kept the buyout from being profitable for investors, the dealmakers are doing all right: They've paid themselves $528.3 million in fees, according to company filings. And TXU? Now called Energy Future Holdings, it's so burdened with massive debts that it may need to restructure to survive.
Back in 2007, Energy Future profited from rising natural gas and power prices and low power-generation fuel costs. Since the buyout natural gas prices have fallen 74 percent below their 2008 peak, and Energy Future's long-term debt has soared to $42 billion. The company, which traces its roots in North Texas to 1882, expects to post a third-quarter net loss of $407 million (its seventh straight quarterly deficit) on operating revenue of $1.8 billion, according to an Oct. 18 filing.
The company is technically insolvent. Total liabilities were $52.2 billion as of June 30, compared with total assets of $44.1 billion, according to data compiled by Bloomberg. Credit rating firm Moody's Investors Service says the utility may need to restructure next year, and derivatives traders are pricing in a 95 percent chance of default within five years for the unit that holds most of the company's debt. "We continue to pay our debts as they become due and have always been and remain in compliance with all of our debt covenants," Energy Future spokesman Allan Koenig wrote in an e-mail. Spokesmen at KKR, TPG Capital, and Goldman Sachs declined to comment.
The payments to the three buyout funds consist of a $300 million charge for advising on the buyout, annual management fees totaling $171 million, and as much as $57.3 million for consulting on debt deals, according to Energy Future's regulatory filings. The private equity firms' fees are as much as 25 times greater than average, based on data from law firm Dechert and financial industry researcher Preqin. Private equity firms typically charge a yearly management fee for advisory services. Over the six years starting in 2005, the mean annual fee was $2.75 million, according to Dechert. Energy Future's owners said they would receive $35 million annually, increasing 2 percent each year, according to a filing with the U.S. Securities and Exchange Commission in 2008.
"This is a utility, and its product is electricity that it sells to the public, but it really is a debt house," says Tom Sanzillo, finance director for the Institute for Energy Economics & Financial Analysis, a research group, and former deputy comptroller of New York. "There are fees to be made in all that debt management."
Credit analysts say the utility's debt load and losses make some sort of restructuring likely. Energy Future's "capital structure is complex and, in our opinion, untenable, which calls into question the sustainability of the business model," Moody's analysts James Hempstead and William Hess wrote in an August report. The ratings firm expects a "material balance sheet restructuring" as soon as 2013, they wrote. "A lot of investors bet on gas prices, and it blew up," says Andy DeVries, an analyst at debt research firm CreditSights. "They just didn't do it in the largest buyout in LBO history—nobody did it with as much leverage as these guys."