Which B-School Has the Most Global Student Body?
Louis Lavelle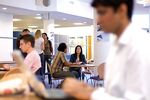 There's growing recognition that today's MBA graduates, whatever path they take after commencement, will need a knowledge of global business practices and cultures to operate effectively. And there are few better ways to develop those skills than in a classroom surrounded by students who are nothing like you—from the languages they speak to their religious beliefs.
So it should come as no surprise that when judging MBA programs, one of the factors many applicants examine is the student body mix, paying particular attention to the percentage of students who hail from foreign shores. In that spirit, Bloomberg Businessweek has assembled a list of the schools with the most, and least, international student bodies among more than 100 participating in Bloomberg Businessweek's 2012 ranking of the top full-time MBA programs, scheduled for release on Nov. 15.
For an apples-to-apples comparison, we limited this ranking to U.S. schools, where the share of students from abroad averaged 35.4 percent, a far cry from the 74.8 percent among international programs. But for the record: The non-U.S. programs with the most international students were IMD in Lausanne, Switzerland, and the Hong Kong University of Science & Technology, where 98 percent of MBA students are from somewhere else. The Rotterdam School of Management at Erasmus University, at 97 percent, wasn't far behind.
And the least "international" international program? That would be the Ivey School of Business at the University of Western Ontario, where only 31 percent of the student body comes from outside Canada. The China-Europe International Business School, with a student body that's 42 percent international, came in second, with two Canadian programs, HEC Montreal and the Queen's School of Business, tied for third at 45 percent.