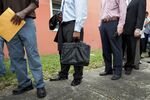 As part of our special Election Issue, we're asking Bloomberg Businessweek readers to tell us: Are we better off than we were four years ago?
Submit your story on Facebook or through our Tumblr, or leave your response in the comments section. We'll feature our favorites in future posts on this blog.
Last week we posted positive and negative assessments of the state of the nation. Today, readers discuss how their lives have not improved in the past four years.
David Huzzard:
"It has been a long four years. At the end of 2008 and heading into 2009, everything was looking good. I was working as a cabinet maker in Fairfax, Va., and business was going well. We had lots of jobs coming in, and because most of our jobs were in the public sector it didn't look like it would slow down. We made the decision to expand, and that is when the crisis found the construction industry. The general contractors [GCs] didn't work only in the public sector, and because they knew those jobs would be there, they took some advantages. As we were starting to fail in 2010, one of them admitted to us that they made money by bidding jobs at 95 percent of cost and then charging the loses back to their subcontractors on bogus penalties.
"Two examples that happened to us: In one case we had our cabinets on site and ready to install on the date we were scheduled to be there, but other subcontractors weren't ready. When the owners back-charged the GC for missing their deadline, they charged penalties to all the subs even though they created the situation. The second example: On the July 4th weekend of 2010, a GC sent us a letter demanding that we have crew on site that weekend to finish a small task. When we obviously weren't able to comply, they back-charged us for that small task as well as many others, some of which weren't even in our contract.
"Small businesses are failing like they never had before because the penalties are too harsh for owning a business. A situation has been created in America where only corporations can afford to pay to do business. Four years ago, I was working for a company with a bright future in an expanding field, and now I am walking dogs and making less than $300 most weeks, and because I find the construction industry a corrupt environment, it has been near impossible to find a good, decent paying job in another field."
Anonymous:
"I can only describe my own experiences. Are businesses rebounding in my community? Not that I can see. Small businesses have shut their doors in Tysons Corner, Va., including a longtime restaurant in the heart of this commercial area: Taste of Saigon. I used to walk to lunch there every day. In 2003, there were crowds on the sidewalks; now I've made it to a café passing three people. Are fewer people unemployed? No. With restaurants and other companies closed or reduced in their employees, I can't with good conscience answer any differently. I'm sure things are looking up from the depths of this recession, but my firsthand accounts are consistently of a worse local economy than the mid-2000s."
"No! I had a good job. Because of the economy and other things, I got laid off and jobs are scarce. My husband and I became homeless in June because we had used all our savings after the layoff to try and keep our home. After six months of trying to find a job, we finally had to give up our home and live in our pickup truck until we could save enough money to move back to the East Coast and move in with our son and his family. My husband got a job, but I'm still collecting unemployment. Still can't find a job, at 54 years of age. Life shouldn't be this hard. And for us older people … it's getting worse."
"Absolutely not! I finally obtained a much sought-after medical device sales position and was recently laid off, as were many other health-care professionals, due to health-care reform. I have heard only negative responses from doctors and other colleagues."
"I have to side with Kimberly Coble on this one. I just spent 10 months in three different hospitals, as well as two care facilities. Not one time while I went through the experience did I hear a nurse or doctor say a positive thing about Obama's health-care reform. Some actually talked about their concerns for senior patients they might have to drop.
"As for things being better. My wife and I haven't had a decent tax return since 2007. My wife's yearly raises used to be between 3 percent and 5 percent. The last three or four years, they have been 1.5 percent. Two years ago, she didn't get one, and her company experienced layoffs. There are a lot of little things in life that I won't go into other than to say no, life hasn't gotten any better at all."
Are we better off? Submit your story on Facebook or through our Tumblr, or leave your response in the comments section. We'll feature our favorites in future posts on this blog.
Before it's here, it's on the Bloomberg Terminal.
LEARN MORE