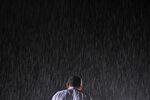 As part of our special Election Issue, we're asking Bloomberg Businessweek readers to tell us: Are we better off than we were four years ago?
Submit your story on Facebook or through our Tumblr, or leave your response in the comments section. We'll feature our favorites in future posts on this blog.
Last week we posted positive and negative assessments of the state of the nation. Today, readers discuss how their lives have improved in the past four years.
"Yes! The sky isn't falling like it was the night before the president was elected. He steadied a 747 in a nose dive and we are pulling out. Let's keep on keeping on and stick with someone who sticks to his story. I know where he stands. It makes me feel secure even if it is slow going in our recovery, it is solid."
"Deficits are the logical consequence of the lack of revenue caused by corporate tax freeloading and lowering taxes on the wealthy while fighting unfunded wars. Reckless disregard for fiscal fundamentals by Republican administrations is the overwhelming cause of the federal debt. Republicans spent and partied like drunk teenagers, leaving the damage and the bill for someone else to pay for."
"The construction industry in Seattle was in free fall four years ago. As a sole-proprietor structural engineer, I was watching my workload and industry shrink by the day and my net worth was vanishing as home prices dropped about 10 percent a month. Clients who were very experienced architects were thinking of leaving the profession or retiring early if they had the means to. By 2011 things were significantly better: My income was up about 20 percent over 2008 and this year probably another 20 percent over that. Now I hear from colleagues that they cannot find enough qualified people to hire. Things are 100 times better in my experience. Personally, I think that a much bolder stimulus plan would have helped turn things quicker, but with the Tea Party determined to force austerity and the plutocratic party acting as the loyal obstructionists in Congress, we are lucky that we are not in the economic and employment situation that Ireland and Spain face today. How anyone can think that firing millions of government workers will stimulate the economy and improve the unemployment rate is beyond baffling."
"I can say without a doubt that I and lots of people I know are indeed better off today than four years ago. Four years ago, a Bain Capital-type company bought the technical school I taught at. They systematically tore the place apart and laid everyone off. My fiance and I both worked there and got laid off on the same day. It took me seven months to get anyone at all to call me back about a job, and there were almost no jobs available. Today, barely a day goes by where I don't get phone calls from IT recruiters for jobs. It is to the point where I ignore three-quarters of them because I'm getting so many. Am I better off today? Yes."
"Husband got a good raise. Bought a new car that gets fantastic gas mileage. Living healthy, weight loss, exercise, great insurance coverage, cancer survivor. Granddaughter still on parents' coverage: She is going back to school, restructured student loans easier to get, easier to pay for. Lower interest for her. Tax cuts, increased depreciation, lower taxes—as our CPA said, "You can thank Obama for that" (she is not a fan, hahaha). Thank you for asking. Oh *and* my lifetime max for health insurance will not run out on me if I happen to have another bout with a major illness."
Are we better off? Submit your story on Facebook or through our Tumblr, or leave your response in the comments section. We'll feature our favorites in future posts on this blog.
Before it's here, it's on the Bloomberg Terminal.
LEARN MORE