The Most Dangerous Thing About China: Americans' Attitudes
Michael J. Silverstein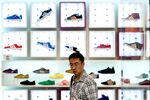 Most Americans are scared of China's economic expansion. They hear their leaders talk about intellectual-property theft, military buildups, political intrigue, and stolen jobs. This rhetoric could backfire on the U.S. economy and limit opportunities for the next generation.
Almost half of Americans—46 percent—say they believe "China's growth will have a negative impact on the U.S. economy," according to a recent survey by the Boston Consulting Group (BCG) of 4,000 consumers in China, the U.S., and the U.K. To put a finer point on it, only 20 percent of Americans said they disagreed with that statement.
This view is misguided—and reinforced by pundits and politicians. In recent debates, each presidential candidate argued he is tougher on China than the other. Americans are being sold a bill of goods—that China's growth is the U.S.'s loss. It simply is not true. It is not a zero-sum game.
China's growth—specifically, the huge increase in spending by Chinese, the largest expansion of a consumer market in history—represents one of America's best chances for future prosperity. Imagine 1.3 billion people with annual incomes rising from $4,000 to $12,000 over the next decade. They want brands—often U.S. brands. The U.S. has the resources and intelligence to become China's leading trading partner and capture the benefits.
In our survey, 40 percent of Chinese people said they are planning to spend more money in the next 12 months than they did in the past 12—despite the current, and temporary, slowdown in China. By contrast, only 9 percent of U.S. consumers said they plan to spend more in the next year.
To prepare to benefit from China, Americans not only need to change their attitude and understand what Chinese consumers will want; they need to understand the skills required to deliver to China.
The siren song from China is the demand for food, cars, housing, health care, apparel, education, and solutions to environmental and water challenges. Americans can participate if they pursue the right technical skills. Engineers, biochemists, development economists, and finance and accounting experts will be among the winners.
Business leaders can set the stage by planning around the tremendous opportunity—and daunting risk—China presents. The volatility, obstacles, and number of ingenious and well-funded local competitors in China will explode, but so will the rewards of being a U.S. company that gets it right. Starbucks, Mondelez International, Yum! Brands, and General Motors exemplify getting it right in China now.
To provide Chinese consumers the right goods at the right prices, with the right features and margins, leaders need to always ask: Do we have the best and brightest deployed in China? Do we really understand Chinese consumers' needs, hopes, and dreams? Are our aspirations big enough? Have we set investments at a high enough level?
Sadly, too few U.S. companies can answer "yes, yes, yes, yes."
Before it's here, it's on the Bloomberg Terminal.
LEARN MORE