Stern MBAs' Startup Accused of Ripping Off Company
by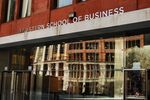 About a year after part-time MBA students Yong Wu and Lixin Fan arrived at New York University's Stern School of Business in the spring of 2010, they set out to build their own company. Depending on whom you talk to, their behavior as student entrepreneurs was either clever and calculating or aggressive and unethical; they are now the subject of a lawsuit filed in a New Jersey Court.
The woman who brought the suit claims the two Stern students ripped off her company in order to start a competitor. She says Fan stole a confidential list of her clients' contact information while he was working for her, as well as proprietary materials.
The case has led to an ongoing NYU review of the students' actions and it illustrates how student-led companies—even those that get an initial boost from school resources—are left to their own devices should they face legal challenges down the road.
"The University can only offer advice," says Philip Lentz, NYU's director of public affairs, about the help given to on-campus entrepreneurs. "Students are ultimately responsible."
Wu and Fan's case starts with Xiaoying Ma, who graduated with a doctorate in education from the University of Massachusetts, Amherst in 2004 and went on to start the company, Princeton Education Connections. Ma developed a two-week study abroad program that brings prospective business students from China to the U.S. to meet with university admissions officers and financial services professionals. She charges $2,500 for the course and says her clients have gone on to graduate programs at Harvard, Yale, NYU, Columbia, Tufts, Michigan State, and the University of Rochester. Ma claims to have developed proprietary materials for her program and says she spent years building a list of clients she relies on for new referrals. She says she hired Fan as a contractor from 2009 to 2011 to talk to her clients about working in finance.
Fan later went on to start the company HorizonSight. With Wu as his business partner, he developed a competing study abroad program. Ma's suit claims that Fan's program used material copied verbatim from her course. It accuses Fan of taking a list of Ma's past clients and then misleading them to believe the two programs were connected.
Ma also accuses Fan and Wu of misrepresenting their affiliations with NYU student groups to promote their company, and she filed a complaint with the school in February. NYU is reviewing Ma's query and has not yet reached a conclusion.
Fan and Wu, who declined to comment for this story, dispute Ma's claims and liken the situation to "an employee of McDonald's leaving his employer and opening a hamburger restaurant nearby," according to an e-mail from their lawyer, Edward Logan. "There is nothing remotely proprietary in the operation of either enterprise."
The suit is "merely a response to competition when there had previously been none," Logan adds.
Like many students aiming to start a company, Wu and Fan drew from their school's growing bank of entrepreneurship resources—and they learned fast where that help stopped. An NYU business law professor advised them on their initial attempts to reconcile with Ma, but that help ended after the suit was filed. NYU says its Innovation Venture Fund did not provide any startup capital for HorizonSight and that there's no evidence that Wu and Fan entered Stern's annual Entrepreneurs Challenge, which awards cash prizes to get student ventures off the ground.
The pair had reserved classroom space to conduct sessions for their study abroad program, which NYU stopped allowing after deeming this an inappropriate use of school facilities by an outside business. While the school has not determined if Fan and Wu misrepresented their company's involvement with various student groups, NYU's Lentz says the school "has taken measures to ensure that the company site does not use the NYU or Stern name."
Join the discussion on the Bloomberg Businessweek Business School Forum, visit us on Facebook, and follow @BWbschools on Twitter.
Before it's here, it's on the Bloomberg Terminal.
LEARN MORE