Apple Unveils a New, Smaller iPad
by and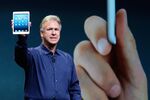 The Apple event today is about to begin. The California Theater in San Jose serves as the venue this time around, where press and other industry people are gathered to see what most assume to be a new, smaller iPad, as well as some other possible additions and upgrades to Apple's product lineup.
In an unexpected move, Apple has opened the proceedings to a live video stream, something the company usually avoids. I asked an Apple PR person once why the company didn't stream events and the reply was "because then no one would come." In addition to me watching the feed, our man in San Jose, Ashlee Vance, is in the theater and will provide coverage from the seats. Stay tuned, the event is about to get under way.
10:10 a.m. PT: Apple Chief Executive Officer Tim Cook kicked off the event by bragging that Apple had sold 5 million iPhone 5s over its first weekend—the most for Apple or any other phone in history. Then he rolled a video celebrating people waiting in line at Apple stores around the world. The message seemed to be, "It's still cool to wait in line for a phone, y'all, despite what Samsung may say" in its ads that poke fun at the Apple faithful.
Apple has sold 3 million of its new iPods and has 200 million devices running iOS 6.
10:17 a.m. PT: Apple's books app, iBooks, now syncs across devices, so you can pick up a book on one device where you left off on another. There's also continuous scrolling. The orchestra pit is filled with Apple employees who punctuate each sales figure with wild applause and screams.
10:20 a.m. PT: We're now moving on to changes to the Mac line of computers. A few months ago, Apple introduced the 15-inch MacBook Pro with the Retina Display. Phil Schiller, Apple's senior vice president of global marketing, is now talking about the 13-inch MacBook Pro, which will now feature the Retina Display. The laptop is 0.75 inches thin, 20 percent thinner than its predecessor. It weighs 3.5 pounds.
10:29 a.m. PT: The new 13-inch MacBook Pro sells for $1,699. So there's a new MacBook Pro that's smaller than the other MacBook Pro. And there's a new iPad, presumably, that's smaller than the old iPad. Is this the Mini-Me show?
Apple now sells three 13-inch laptops: MacBook Air 13-inch; MacBook Pro 13-inch; and the MacBook Pro with Retina Display 13-inch. That's a lot of products to keep track of. Presumably, the older MacBook Pros will sunset, but for now the lineup is crowded.
10:35 a.m. PT: Schiller is now discussing the iMac, which has had seven versions since the Bondi Blue model in 1998. The new iMac is wildly thin, similar to the screen you see on a MacBook Air. It is 80 percent thinner than the previous version, Apple says.
10:43 a.m. PT: Apple has a new storage device available on the iMac called the Fusion Drive. It's a 1- or 3-terabyte hard drive (for maximum storage) merged with 128 GB of flash memory (for increased performance). The iMac's operating system automatically moves frequently used apps and files to the flash memory for faster retrieval, while maintaining the increased storage of the hard drive for less often used programs.
10:45 a.m. PT: Cook is now talking about how great the iPad is. Wouldn't it be great if Cook surprised everyone? "And now, the 17-inch iPad!"
10:53 a.m. PT: There's a new, smaller iPad, Apple's fourth generation. There's also a new processor that's twice as fast as the one used on the last iPad, and Wi-Fi that is said to be twice as fast. A Lightning connector is standard. The new iPad is 7.9 inches diagonal and costs $499 with Wi-Fi, $629 with cellular service. That compares with 9.7 inches for the standard iPad.
11:11 a.m. PT: The new iPad Mini starts at $329. Pre-orders begin on Oct. 26, and the Wi-Fi version will ship first, a week later. Two weeks after that, cellular units will ship.
11:15 a.m. PT: OK, we're wrapping up here at the theater. Cook is thanking people. Ashlee and I will be back in a short while with a postgame analysis of today's announcements.
Before it's here, it's on the Bloomberg Terminal.
LEARN MORE