When a Small Employer Gets Sued by a Former Worker
by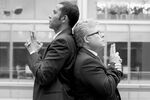 Jeff Herold got a "horrible feeling" in the pit of his stomach when he read an unexpected e-mail in mid-2009: "I am going to give you one opportunity to settle this case before we allow the lawyers to have their way. It will cost you an excessive dollar amount to defend this case." The message came from a former sales manager of Herold's Huntington Beach (Calif.) luggage and golf accessory business, West Coast Trends, who had been laid off along with about one-third of the staff a year earlier.
"For anybody who goes through the blood, sweat, and tears of starting a business, when someone comes along with an attorney whose No. 1 goal is to extract money, it produces stress and lack of sleep," says Herold, whose 22-year-old company has 50 employees and more than $10 million in annual revenue.
In the past couple of years, as thousands of companies have gone through recession-induced layoffs, work-related legal claims have risen along with employment discrimination charges. The U.S. Equal Employment Opportunity Commission reported that nearly 100,000 workplace discrimination complaints were filed in both fiscal year 2010 and 2011, record-high numbers. A Peer Monitor survey (pdf) of 135 of the nation's largest law firms reported that labor and employment work jumped 4.7 percent in the second quarter 2012 over the same period in 2011.
A legal notice should not spark panic: There are steps business owners can take—beyond the obvious advice to call an attorney, says Dariush Adli, president of Los Angeles-based Adli Law Group, which has many entrepreneurs and inventors as clients. "Getting a letter from the court can turn things upside down overnight" for a small business owner, he says. "The first instinct of many recipients of such letters is to do nothing. However, it is rarely the best option, as it usually makes the problem worse."
For one thing, just being named in a lawsuit does not mean your company will be ruined, or even taken to court. Your business may be named regarding a product or service it does not sell, or sells only minimally. "Investigators go around town and round up a bunch of defendants because the plaintiff wants to put in as many names as possible," Adli says. Your business may be included if it is in a related industry or only tangentially involved. In that case, it usually takes just a declaration from your attorney to get your company dismissed from the suit.
Other times, basic research can help. For instance, an intellectual property suit may be based on a patent that has expired or is invalid. "Searching for resolution of the problem on the Internet is a good start to determine a course of action or direction to be taken," says Rubin Ferziger, a New York business lawyer.
Another search should be for your business insurance policy, which may include a clause covering legal costs. "Call your insurance broker and quiz him," says Matt Kinley, a partner in Southern California law firm Tredway Lumsdaine & Doyle. "Most general liability policies do not cover some special areas, like intellectual property cases or employment cases. [But] before you face an adverse legal issue, it is important to have a conversation about special riders to your policies that may be available for any risks that your business may face." In Herold's case, he did have employment liability insurance, which paid all but $10,000 of the eventual $80,000 it took to fight his former employee's wrongful termination claim over two years.
Examine your contracts with suppliers and manufacturers as well, particularly in a legal action that involves a product you have licensed or distributed. You may find an indemnification clause in that contract that says the manufacturer is liable for costs in a legal dispute over that product, Adli says.
Assess your options calmly and make a rough estimate of what the possible damages could be if your company is found to be at fault. Do not contact the person or company who is threatening legal action, either to try to settle the case or to give them a piece of your mind, Kinley says. If the person threatening litigation is an employee, do not speak to him about his claim. Do make sure that you preserve all records and other evidence that may relate to the litigation. "In some states, you face additional liability for destroying such evidence before a trial. Ask your computer professional to maintain all electronic records; you should start to isolate this information and have it ready to fight the legal inquiry," Kinley says.
Every business should have anti-discrimination, anti-sexual harassment, and anti-retaliation policies in place and make sure that employees are educated about them. Jeff Nowak, partner and co-chairman of the labor and employment practice group at Franczek Radelet law firm in Chicago, writes in an e-mail: "Where a retaliation claim or lawsuit has been filed, it is critical that the employee not be treated as a traitor, as difficult as that may be. All good faith complaints must be taken seriously."
The lawsuit against Herold was settled last spring for $12,500 and required letters of apology from the former employee and his attorney, stating that the lawsuit should not have been filed. It was a satisfying conclusion, and one that taught Herold several lessons: "Make sure all of your ducks are in a row with human resources. And, if you're sure you have done no wrong and can prove it, let the opposition know they're in for the fight of their lives. If you pay off quickly, you've now made it known that you're a company that just pays."
Before it's here, it's on the Bloomberg Terminal.
LEARN MORE