Using the Presidential Debates as a 'Teachable Moment'
Alison Damast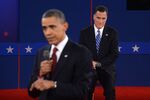 About a year ago, Lynn University, a sleepy private liberal arts school in Boca Raton, Fla., learned it was going to be one of three schools in the U.S. hosting a presidential debate on its campus. Tom Kruczek, dean of Lynn University's College of Business and Management, knew immediately that he wanted the debate to have lasting impact on the school's 1,000 undergraduate and graduate business students, rather than pass as just an "eventful day or week in the life of our students," he says.  He challenged the school's faculty last year to come up with creative ways to embed the third presidential debate into their existing classes, a charge they took on enthusiastically.
"It is a wonderful opportunity to capitalize on the interest by integrating the debate and election into our classroom discussion and assignments," Kruczek says. "It really shows students the intersection between government and business."
Kruczek and his faculty's efforts have paid off this fall. Students in the business school have been busy studying the debate and its economic implications in many of the school's electives and core classes during preparations for the third and final presidential debate on foreign policy, which will take place at Lynn tonight, Oct. 22.
For example, students in the Managing Organizations class were asked to pick a presidential candidate and then write a paper that described what would happen in their prospective career field if their choice were elected. Accounting students studied the first debate and then examined the candidates' differences on economic policy, as well as some possible tax consequences if the policies the candidates support go into effect. Even students taking the school's aviation-management and sport-management courses have organized class projects around campaign issues that impact their sectors, Kruczek said.
Lynn's business school is one of several capitalizing on holding presidential debates on campus. Business schools at the University of Denver and Hofstra University, which respectively hosted presidential debates on Oct. 3 and 16, have also used classroom time to study the debates. Students there spent the season analyzing candidates' leadership styles, studying campaign finance, and examining the impact that proposed economic plans will have not only on the country's economy, but on their own wallets, school administrators said.
For example, at Hofstra's Zarb School of Business, finance students in the school's investment courses were asked to analyze what impact the  economic plans of each candidate would have on the value of their simulated class portfolios. In another class, undergraduate and graduate management students researched leadership styles and then posted clips of the debates online that illustrated examples of those leadership aspects, said Gioia Bales, the Zarb School's associate dean, in an e-mail.
At the University of Denver's Daniels College of Business, accounting professor Hugh Grove discussed the second presidential debate as a capital budgeting project with his students, analyzing what some of the monetary and non-monetary benefits were for the university, the school says. Daniels also organized a number of panels around the election, including discussions on such topics as campaign finance, restoring fiscal responsibility, and the issues that will most influence swing states this year.
At Lynn, the lead-up to tonight's debate has busied students with class discussions, in-class debates, and research presentations on debate topics related to the economy. Professor Farideh Farazmand, a professor of international business, asked students in her macroeconomics class to break into teams and research socioeconomic topics she assigned to them, such as tax cuts for working families and whether every American should have affordable heath insurance, and then debate these issues in front of their classmates. She is also having her students conduct an economic survey on the impact of the debate on the local community.
"They can now follow the campaign and debates closer because they are much more informed," Farazmand says. "It also enhances their citizenship and personality development because this way, they will get involved. Hopefully they will vote and they'll be more involved in community and national issues."
Akash Isrania, 19, a freshman at Lynn's business school, participated in one of the debates in Farazmand's class last week, with his team tackling the issue of whether government spending on social programs should be cut. The assignment opened his eyes to many of the most pressing economic problems that Republican nominee Mitt Romney and President Barack Obama face.
"I didn't know too much about these issues until this class, but now I can finally sit back on Monday, watch the debate, have my opinion, and know exactly what is going on," Isrania said.
John Cipolla, another Lynn professor, is hoping the work he's done this fall with his introductory global management class will make his students pay closer attention to candidates' positions on international economic issues. He has asked students to select three statements made by each candidate about global trade, fact-check them, and pinpoint what economic theories they are based on. The students then made class presentations about what they believe will happen to the U.S. and global economy if some of the policies come to fruition.
Says Cipolla: "It has opened their eyes to what realistically can and can't be done, and how much of what the candidates are talking about is actually bluster."'
Join the discussion on the Bloomberg Businessweek Business School Forum, visit us on Facebook, and follow @BWbschools on Twitter.