This CEO Gives Every Employee His Cell Number (Seriously)
by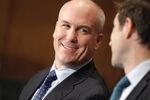 Every now and then, a Quicken Loans employee accidentally "pocket" dials Chief Executive Bill Emerson. He doesn't mind. "It's an open culture," he says. In the past six years, the 49-year-old has given out the number of his personal cell phone to each of the Detroit company's 8,500 employees.
"It's a personal choice for a CEO," he says. "I encourage leaders to be accessible because it breeds an inclusive culture."
Perhaps surprisingly, Emerson receives only about five or six calls from employees each month, including a few from interns. Most calls are about regular business. He says he has not yet received any prank calls, and none of his employees has called about lawsuits against Quicken Loans alleging predatory lending practices. Still, he does remember a few unusual moments.
• "The Tigers clinched going to the World Series. People pinged me to say not only, 'Great, the Tigers won,' but also, 'Can we get tickets?' We have tickets to Tigers games, and we hand them out all season. We'll have a select few for the World Series and we'll absolutely hand them out to team members."
• "Once someone asked if I have a brother, because they bumped into him in Detroit. He asked, 'Hey do you have a brother? Is his name Bob?' They were having a conversation, and he said he worked at Quicken Loans, so my brother must have said something."
• "During orientation, we give them an 'awareness quiz.' In that process, one of the questions was, 'What is the color of my eyes?' So, I got like six phone calls from people asking if I would answer the question for them. I'm like, are you kidding me? I can't answer that; it's an awareness quiz."
Before it's here, it's on the Bloomberg Terminal.
LEARN MORE