The Power of Industry Clusters
Harold L. Sirkin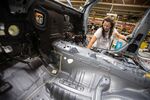 Industry "clusters" have been around for a very long time, serving as a catalyst for economic growth. Think: Detroit in the U.S. auto industry's heyday, Pittsburgh when steelmaking was king, Silicon Valley for tech, Research Triangle Park, Wall Street, and even Hollywood. They are all examples—past or present—of the phenomenon.
Perhaps one reason we don't hear more about clusters is that the term sounds so unsophisticated. To my ear, cluster sounds clumsy; synergy sounds so much better—and says much more about the nature of clusters, why they form, and their advantages.
What makes clusters unique is not just that companies with similar or complementary interests, competencies, and needs congregate around each other. It's that an entire value chain exists within a cluster: suppliers, manufacturers, distributors, academic institutions, researchers, and workforce training, as well as those who provide relevant support services.
Southeastern North Carolina, for example—once a hub for Dutch immigrant flower growers and the allied businesses, such as fertilizer and trucking, that served them—has become a center for contract research organizations (CROs) serving the pharmaceutical industry. This, in turn, has produced a raft of related enterprises: New pharmaceutical companies have sprung up in the area; additional research organizations have appeared; companies that recruit and screen participants and provide support services for human drug trials have located there; and the local state university campus is now offering undergraduate and graduate degrees in clinical research, as well as programs that seek to harness the school's specialized expertise in marine science to identify and commercialize "novel compounds with potential pharmaceutical applications from marine organisms."
By definition, this is a cluster. The synergies are apparent.
Other clusters are blossoming around the factories that European, Japanese, and Korean automakers have been building in the U.S. According to the Kentucky Cabinet for Economic Development (PDF), more than 440 "motor vehicle-related" facilities are now located in that state, employing more than 68,000 full-time workers. The Cleveland area is becoming a hub for the biomedical industry. Clean energy has ignited a burst of academic and commercial activities in Colorado. There appears to be an emerging critical mass in the area of robotics in Pittsburgh. And another cluster is forming in Virginia—the Commonwealth Center for Advanced Manufacturing (CCAM)—building around aerospace, automotive, and heavy machining.
Academic research (PDF) conducted by the Institute for Strategy and Competitiveness at Harvard Business School indicates that areas with strong clusters produce more economic growth, more jobs, stronger wage growth, increased entrepreneurial activity, and more intellectual property—such as patents—than other areas.
We're not crazy about the name—clusters. But the benefits are obvious.
Before it's here, it's on the Bloomberg Terminal.
LEARN MORE