The Dutch Don't Look So Frugal
Mortgage crisis Dutch style
By and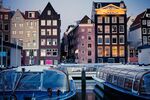 When Wilco Drijver bought an apartment in Amsterdam's gentrifying De Pijp neighborhood in 2008, the bank gave him a no-money-down loan of 209,000 euros  ($274,000). That was 24,000 euros more than the sales price. Drijver used the extra cash to renovate the place, figuring it was a good investment.
He figured wrong. When he put the apartment up for sale five months ago, real estate agents said it would fetch only about 189,000 euros. Even at that price, he hasn't had a nibble. And because his mortgage is interest-only, he still owes the entire 209,000-euro principal to the bank. Had he known what would happen, the 32-year-old self-employed consultant says now, "I wouldn't have bought the house."
Homeowners like Drijver are part of a worrisome stain on an economy usually seen as one of Europe's strongest. While lecturing their southern neighbors about frugality, the Dutch have run up the highest rate of mortgage debt in Europe. Their borrowing, fueled by generous tax breaks and subprime-style lending practices, now totals 107 percent of the country's gross domestic product, more than twice the European average of 50 percent. "It's one of the big scandals of Dutch policy," says Rick van der Ploeg, an Oxford university economist and former Dutch cabinet minister. "The government has encouraged reckless financial speculation."
No one worried much about the situation so long as housing prices kept rising—as they did for more than two decades, until 2008. Since then, though, they've slid 16 percent, pushing almost one-fourth of mortgages under water. Royal BAM, the country's biggest homebuilder, expects the decline to continue for another 2 or 3 years, for a total drop of up to 30 percent. Such a scenario would rival Spain's real estate collapse.
The debt load is already putting strains on the economy. Highly leveraged households have trimmed their consumer spending, helping to push the country into recession. Dutch GDP is forecast to contract 0.5 percent this year, the worst performance of any northern European country. "The high stock of mortgage debt is among today's biggest vulnerabilities of the Dutch economy," Klaas Knot, the country's central bank chief, said in an Oct. 15 speech.
Recent legislation will phase out some of the riskiest lending practices, such as interest-only mortgages and loans exceeding a home's purchase price. A new coalition government, being formed after elections in September, could move to trim mortgage interest tax deductions by next year. But that could further dampen sales in an already-moribund real-estate market, where the number of transactions is down 50 percent since 2008. "People are hesitant to buy because of uncertainty on government measures, diminishing purchasing power, and rising unemployment," says Laurien van der Oest, a real estate agent in the city of Almere.
So far, Dutch lenders aren't in serious distress. The foreclosure rate is below 1 percent. Unemployment, though increasing, is still a modest 5.2 percent, and most households have substantial savings.
Still, Dutch banks have some of the highest loan-to-deposit ratios in Europe, with a collective funding gap of more than $622 billion. Mortgage debt "is one of the key issues for our banks," says Anneloes van Ulden, a housing specialist at the Dutch Bankers Association. "There is a strong wish to try and make the indebtedness less."
Homeowner Drijver shares that wish. But he's grateful that he didn't accept the bank's initial offer of a 250,000 euro loan for the 185,000 euro apartment. "I can thank my parents for that," he says. "They taught me not to buy more than you need."