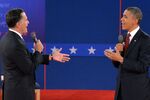 In the second presidential debate, President Obama reiterated his claim that his tax policy would only raise taxes on 3 percent of small business owners, commenting that "97 percent of small businesses … will not see a tax increase." While the claim sounds great, it's not true. The president is ignoring his own plan to return the payroll tax to 2010 levels.
I'm referring here to the president's overall tax policy, not just his plans for the Bush tax cuts. That overall policy includes what he plans to do to recent cuts to payroll taxes. The 2010 Tax Relief Act (PDF) lowered the employee's share of Social Security taxes from 6.2 percent to 4.2 percent of wages, up to the maximum subject to Social Security taxes ($110,100 in 2012). That tax cut was later extended, first for January and February of 2012, and then for the remainder of this calendar year.
However, the Obama administration isn't asking Congress for a further extension. In testimony before the Senate Budget Committee earlier this year, Treasury Secretary Timothy Geithner explained the administration wouldn't support reduced payroll tax rates beyond the end of the year, saying, "This has to be a temporary tax cut. I do not see any reason to consider supporting its extension."
Letting a tax cut expire has the same effect as increasing taxes, as the debate over the expiration of the Bush tax cuts clearly shows. Regardless of whether Washington takes back a cut or puts a new tax in place, if the government takes more, business owners keep less.
In the case of the payroll tax, the size of this tax increase is substantial. Reversing the two-percentage-point reduction in the employee's share of Social Security taxes that has been in place over the past two years would impose a 19.2 percent tax increase on the 22.3 million nonfarm sole proprietors who pay both the employer and employee share of Social Security taxes. (Their payroll taxes will rise from 10.4 percent to 12.4 percent of earnings.) Because these businesses are structured as pass-through entities, the payroll tax increase will hit their owners' pocketbooks. Put simply, the Obama administration tax plan would mean less after-tax income for sole proprietors in 2013 and beyond.
The Treasury Department doesn't think that all sole proprietors will pay more. That's because it doesn't define most sole proprietors as business owners. Its analysts estimate that only 46 percent of sole proprietors meet its definition of business ownership (PDF) because it excludes those sole proprietors it considers independent contractors, hobbyists, and rental property owners.
But even if we accept the Treasury Department's narrow definition of business ownership, the Obama payroll tax plan would raise taxes on many business owners, just as it would raise taxes on everyone subject to Social Security taxes.
Once you consider the Obama administration's plan for payroll taxes as well as income taxes, far more than 3 percent of sole proprietors will face a tax increase under the Obama plan. While less than 1 million sole proprietors would have to pay higher taxes under the president's plan to let the Bush income tax cuts expire for high-income taxpayers, 22.3 million sole proprietors would face a tax increase under the president's plan to let the payroll tax cut expire.
You might expect Governor Romney to use this information to portray the president as a small business tax-increaser. Yet the challenger has been silent on the issue, mentioning it neither in debates nor campaign ads.
Surely Romney's economists have figured out the president's payroll tax plan amounts to a tax increase on sole proprietors. Therefore, the explanation for the Republican candidate's silence must be something other than a lack of economic analysis.
I believe the reason for the challenger's silence is simple: If elected president, Romney also plans let the payroll tax cut expire, returning Social Security taxes to historical levels.
Sole proprietors, you've been warned. Regardless of who wins the election this November, your payroll taxes are going back up. For many of you that means less money in your pocket just in time for Christmas bills to hit your desk.
Before it's here, it's on the Bloomberg Terminal.
LEARN MORE