MBA Journal: Fashioning a New Life
Jade Huang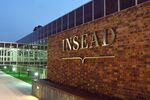 Life is full of surprises.
At 17, I set out to become a world-famous fashion designer by moving to New York, but a series of unexpected events led me along a zigzag path to become an Internet specialist at the U.S. Treasury. How did I get here and where do I plan to go? Let's start from the beginning.
I emigrated from Taiwan to the U.S. as a teenager. After being born to an impoverished farming family, my father worked his way through school and was eventually awarded a scholarship at Yale University—a life-transforming opportunity for our family. Education in the U.S. valued creativity and gave me the freedom to explore artistic pursuits such as photography and painting, subjects that were discouraged in Taiwan's science- and math-centric curriculum.
This cultural duality and an inborn curiosity sparked my love for travel and exploration of other cultures. I've traveled to five of the seven continents, and still have not seen enough. In 2008, I traveled to Ghana and Nigeria and fell in love with the rich texture of West African culture, everything from the people and their sense of community to the food and art.
This curiosity and need for exploration also influenced my career. I moved to New York to study fashion design. As fate would have it, I discovered a deep-rooted hatred for sewing—a deal breaker, of sorts. Feeling defeated and lost, I was faced with a choice: Go home and reevaluate what I wanted to do with my life or stay and find my own way.
I chose to stay.
With enough money to last a month, I taught myself graphic design and built a portfolio that helped me land my first job as a Web designer. Over the years, I became involved in digital strategy, leveraging design and technology to achieve organizational goals. The Web is an incredibly creative medium that is adaptable to every business need. In this arena, I discovered the happy balance between creativity and intellectual stimulation.
After 10-plus years working in Web design and digital strategy, I am now ready to take on new challenges, leveraging my experience to attempt the famous "impossible triple jump"—changing country, industry, and job function.
I chose to embark on this next chapter of my life at INSEAD. Here, I plan to investigate opportunities in venture capital funds that focus on Internet startups and in multinational firms that need a cohesive global digital strategy. There is also the possibility of creating my own startup, focusing on mobile and tablet applications for business use. I was drawn to INSEAD's incredibly diverse alumni network, which spans the globe, as well as its campus locations in Fontainebleau, France, and Singapore, a duality that allows me to explore careers in Europe and Asia.
People often say it's who you know that matters most. Before school started, I got to know my future classmates through local meetings and our Facebook group. From the start, I felt impressed by their achievements and excited about getting to know this passionate group of people. I anticipate my time at INSEAD to become the best year of my life, so far. I just hope I don't discover a deep-rooted hatred for Excel.
Between journal entries, you can keep track of Jade's business school adventures at the Business Schools Facebook page. Follow the Bloomberg Businessweek B-Schools team on Twitter.
Before it's here, it's on the Bloomberg Terminal.
LEARN MORE